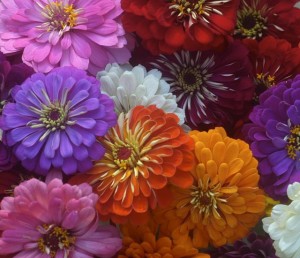 I confess. I used to detest zinnias. Bright, bold and brassy, zinnias are a neon type of flower. But when I first started growing cut flowers, I found zinnias to be the top flower – not amongst the top, but THE top flower – on one after another Top Ten list by flower farmers across the country. OK, OK, I said, I'll grow some zinnias. And grow they did! Endless blossoms in pink, coral, orange, scarlet, wine, purple, white & yellow, all thru the hot summer. Their eye popping color quickly became an essential element in our bouquets, and they were equally eye catching in the landscape. I became a zinnia convert.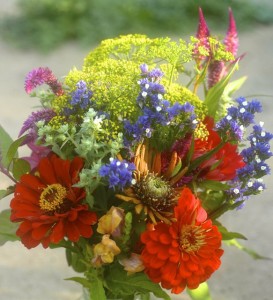 Zinnias hail from Mexico, which makes them good candidates for Oklahoma heat. Spaniards who encountered them in Mexico dubbed them "mal de ojos" meaning either "ugly to the eye" or that they are so bright they hurt your eyes. (I admit to feeling validated when I first heard this.)
Zinnias come as single, semidouble and double flowering; singles are more like daisies, and doubles look more like dahlias. For cut flowers, we grow Benary's Giant zinnias almost exclusively. Tall plants, big flowers, long, sturdy stems – thank you, Benary.
If you're looking for bedding plants, Profusion is a dwarf zinnia that's fantastic for borders. Another favorite of mine is Persian Carpet, an heirloom zinnia with a southwestern look.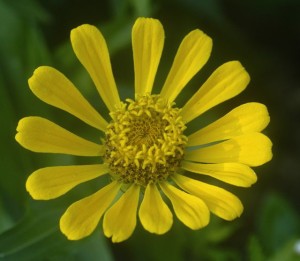 Start zinnias in pots inside or plant directly outside in a sunny spot when the soil has warmed. In 2-3 months, you'll be surrounded by swarms of color. Bees and butterflies are attracted to zinnias, too, making them a great pollinator plant.
For longest vase life, harvest before the pollen ring forms on the flowers, shown in the photo here of the single petalled yellow zinnia. The double yellow flower below is at the perfect stage for harvest; the petals are fully open, but the yellow stamens aren't showing yet. Zinnias thrive on hot weather; the first frost ends the season for these bright beauties.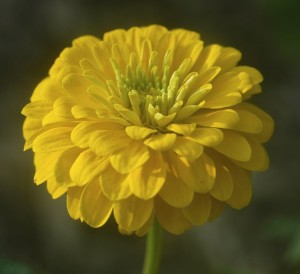 CommonWealth now grows over 25 varieties of flowers, with bouquets and bulk flowers available for purchase. More details on our Slow Flowers webpage.
CommonWealth Farm Stand
It's pepper season! Red or green, fat or skinny, sweet or hot or really hot, peppers are a beautiful and versatile vegetable. Red (or orange, yellow or purple) peppers are simply green peppers that have fully ripened. They sweeten up as they mature, with an increase in nutrition as well. Mix the colors together for a lovely crudite platter, or sauté them with onions, or grill them for a special treat. A favorite variety of mine is Jimmy Nardello, pictured above. This heirloom pepper looks like a hot pepper but has a sweet, rich flavor and is excellent raw, roasted or stuffed.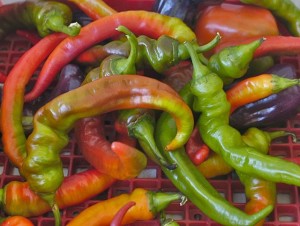 And yes, we still have TOMATOES! Big tomatoes, cherry tomatoes, plum tomatoes, we got 'em.Our farm stand is open on Saturdays from 9 am to noon; if you're looking for FRESH and LOCAL, then come on by. Tomatoes, peppers, cucumbers, fresh basil, onions, potatoes, garlic & elephant garlic fill out the selection this week. We're located at 3310 N. Olie.
Garden School: Planning the Fall Garden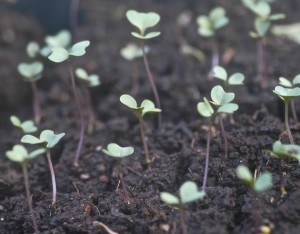 Saturday, August 15 from 8:30 – 9 am
Timing is everything with the fall garden! Plant too early and the crops fail due to heat. Plant too late and they won't be ready to harvest before the first freeze. Some vegetables are cold hardy and can be planted later in fall for a winter harvest. Lia will share her fall planting calendar along with tips for veggies best suited for fall gardening.