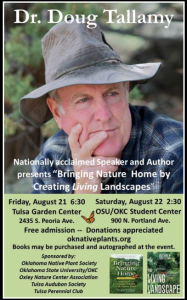 Doug Tallamy, acclaimed author of two books about native plants, is speaking this Saturday, August 22, 2:30 pm at OSU/OKC on the third floor of the Student Center, 900 N Portland.
A dynamic speaker, Tallamy explains, "You have probably never thought of your property as a wildlife preserve representing the last chance we have to sustain plants and animals that were once common throughout the US. But that is exactly the role our suburban and urban landscapes are now playing- and will play even more in the near future."
I'm particularly keen to hear more about establishing pollinator habitat in the city. Our volunteer team at CommonWealth is making plans to turn the flower patch next to the street in front of CommonWealth into a pollinator garden. Plus create signage so anyone visiting CommonWealth can learn about what's planted there and why those plants are beneficial to pollinators.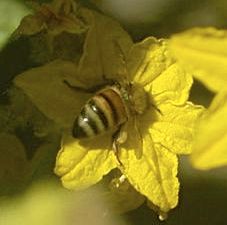 And why are pollinators beneficial to us? We can thank pollinators for one out of every three bites of food we eat. Bees, butterflies, wasps, flies, beetles, bats, small mammals and birds are all pollinators. The bee in the photo here is visiting a cucumber flower to gather pollen; as it moves from flower to flower, bits of pollen get transferred from male to female flowers. Next time you eat a cucumber, thank a bee.
Many pollinator populations are in decline, caused in large part to a loss in feeding and nesting habitats. Monarch butterfly populations have declined 90% (yes, that's 90%) in recent years. Adding natural habitat areas into farms and gardens works: pollinators are attracted, yields increase.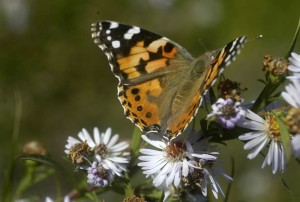 If you build it, they will come! The Pollinator Partnership website has great information on helping pollinators.
More info on Doug Tallamy at the Oklahoma Native Plant Society website or Facebook page.
Farm Stand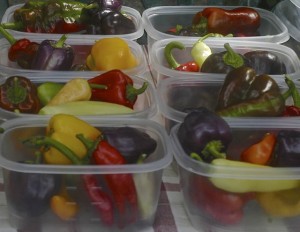 We're open! Our Farm Stand is open on Saturdays from 9 am to noon; if you're looking for FRESH and LOCAL, then come on by. We'll have tomatoes, peppers, cucumbers, fresh basil, onions, potatoes, garlic & elephant garlic for your selection. We're located at 3310 N. Olie.
Garden School: Cookin' with the Sun
Solar Oven Demo & Tasting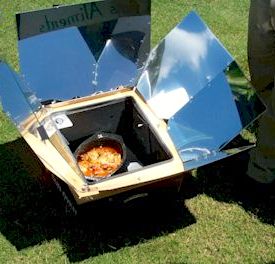 Saturday, August 22nd from 8:30 – 9 am
Summer brings SUN and plenty of it! Instead of heating up the kitchen, why not put that solar power to use? Sun ovens heat up to 360 degrees, and can be used to bake, boil or steam any kind of food. This is an easy, forgiving way to cook, like a crockpot that doesn't need electricity. Lia will demonstrate cooking garden veggies in her sun oven, and attendees will get to sample dishes cooked with solar power.