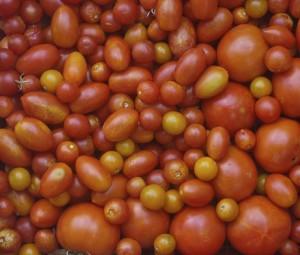 IMHO, summer = tomatoes. Tomatoes! We got 'em. We have an abundance of both slicers and cherry tomatoes this week. It's the season for sliced tomatoes drizzled with olive oil and balsamic vinegar, panzanella salad (that's the one with tomatoes, cucumbers, basil & croutons – I could eat this every day all summer), pasta with sautéed cherry tomatoes, bruschetta, gazpacho, grilled cheese & tomato sandwiches, salsa… tomatoes every day in every way.
Our farm stand is open on Saturdays from 9 am to noon; if you're looking for FRESH and LOCAL, then come on by! Sweet peppers & hot peppers, yard long beans, fresh basil, onions, potatoes, garlic & elephant garlic round out the selection this week. We're located at 3310 N. Olie in OKC.
Slow Flowers: Marigolds
Like sunflowers, marigolds are pure summer cheeriness. Is it possible to look at an armful of marigolds and not smile?
Marigolds are a summer workhorse in the flower garden. They bloom from June until frost, cranking out a steady supply of blooms for bouquets or just to enjoy in the landscape. We grow Tagetes erecta, aka African Marigolds, which are actually native to Mexico and Central America. (Go figure.) We have one 30′ x 3′ row of African Marigolds, from which I've been harvesting 200 flowers weekly for a couple months now. Impressive! Eventually, the blooms get smaller; a second planting in mid-summer will extend the harvest of large blossoms.
Easy to grow, this is truly a beginner's flower. Start seed indoors in March and transplant out in April in a sunny location. Tagetes erecta will grow to 3′ in height, with an abundance of large, fluffy, yellow or orange flowers on long stems. Tagetes patula, or French Marigolds, are shorter, with red, orange, yellow or bicolor flowers. They are an excellent choice for bedding plants or in containers. Tagetes tenuifolia are compact little plants with lacy foliage and clusters of small, single flowers. Their citrusy scent make these the choice for edible flowers; just use the petals, as the base can be bitter. They're also lovely in borders & pots.
In Southeast Asia, marigolds are strung into garlands for decorations at weddings and other ceremonies. Here's step by step directions from flower farmer Katherine Anderson showing how to make a marigold lei or crown for yourself!
CommonWealth now grows over 25 varieties of flowers, with bouquets and bulk flowers available for purchase. More details on our Slow Flowers webpage!