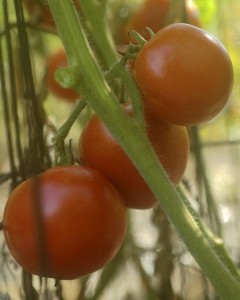 Ah, tomatoes! July is tomato month. Pictured here is Early Girl, a tomato we appreciate for being both early and flavorful. Most tomato plants take a break when hot weather really sets in; Juliet and Verona are mini-roma tomatoes that will keep producing even in August in Oklahoma. As is often the case, our best producer this year is a tasty little cherry tomato that came up as a volunteer next to our zinnias.
It's been an odd season. With all the rain we got in May, we entered the summer well-hydrated, and temps still haven't topped 100 degrees. So it seems like we should be having a most productive summer vegetable-wise, but actually we've had a poor harvest on squash, cucumbers, and even eggplant. I'm a bit baffled by it.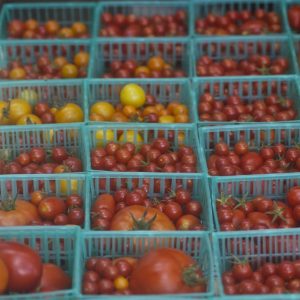 At least our tomatoes, basil, yard long beans, sweet peppers and shishito peppers are growing happily. Shishitos are a small, slender chile originating in Japan. Most are quite mild, but heads up! Every once in a while you'll encounter a spicy one. If you've never tried shishitos, I recommend them grilled with a touch of lemon and sea salt. I can eat a whole bowlful without pausing – truly addictive.
Yard long beans shine during hot weather, and our prolific Red Noodle yard longs are excellent in a stir-fry. The trick with yard long beans is to cook them thoroughly; at my house, we like them cooked until they are slightly blackened. Heat your oil first and wait until it's hot to add the beans, or they'll get mushy.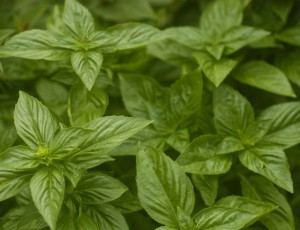 And basil… we have basil! Genovese, the classic basil for pesto, as well as a miniature fine-leaf basil for garnishes, plus purple basil, thai basil, and lemon basil. We also have onions and potatoes from our June harvest. Email me if you'd like to order any of the above veggies, and we'll hold them for you for pick up on Saturday morning.
There are as many reasons to love gomphrena as there are tiny blooms on each plant. Gomphrena is delightful in the landscape, blooms continually all summer and through the fall, attracts butterflies, comes in a range of hues from white to pink, orange & red, has a long vase life, can be used as a dried flower, and takes our hot, dry summers without batting an eye.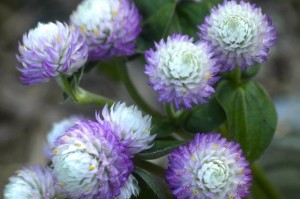 Plant gomphrena seedlings in the spring in a sunny location. You can start them from seed yourself in pots indoors under lights in mid-February, for transplanting in mid-April. Gomphrena is drought resistant once established.
My all-time favorite gomphrena is Fireworks – each hot pink bract is topped with a yellow star-shaped stamen, looking for all the world like a tiny explosion of fireworks. Fireworks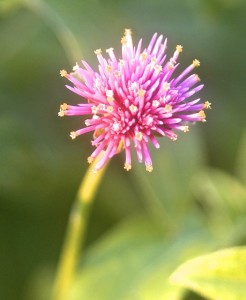 has extra long stems (great for bouquets) and grows into an open, bushy plant 2-4 feet tall. It complements other flowers in the landscape beautifully, and will be one of your "What IS that?" flowers when visitors stroll through your garden.
CommonWealth now grows over 25 varieties of flowers, with bouquets and bulk flowers available for purchase. More details on our Slow Flowers webpage!