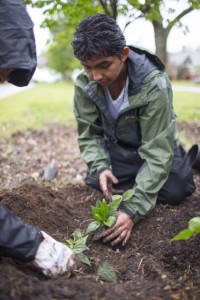 With the 4th of July upon us, I keep thinking about an 
article
 I read from the 
Schumacher Center for a New Economics
.
"In the leaky bucket analogy for local economies, money flows into a region to circulate through local businesses like water into a bucket. Water that leaks out is money that escapes the local economy to pay for imports. The more watertight the bucket, the more wealth retained."
It goes on to describe an initiative in the early 1980s in Oregon, where unemployment was rising due to the downturn in the timber industry. Job-training programs weren't working, because no new jobs were open. A local organization began a matchmaking service, connecting local businesses with local manufacturers. Within the first year, they'd created "14 new local contracts for work formerly done elsewhere, replacing $500,000 of imported purchases, creating 90 new jobs and saving local purchasers about $125,000… The initiative encouraged Eugene's citizens and its business owners to imagine what was possible, rather than what wasn't working."
At CommonWealth, we're vigorously exploring how we can grow food & flowers for our local community, generate desirable jobs, educate people to grow food themselves, transform our common waste (i.e. food waste and wood chips) into fertile compost, and strengthen the relationships that make us a healthy community. All of this creates a stronger bucket to allow local wealth to circulate & re-circulate within our community. We invite you to imagine with us what else is possible; how can we deepen the economic and spiritual vitality of our community?

CommonWealth Farm Stand
Saturdays from 9 am to noon
CommonWealth Urban Farms, 3310 N. Olie, OKC
This week: Fresh basil, carrots, new potatoes, leeks, onions, garlic, shallots, mild broccoli leaves, sweet baby turnips and some excellent baby kale. Our 
Slow Flower 
Bouquets are also available at our Farm Stand, or pre-order 
here.
Slow Flowers

On the subject of Leaky Buckets & Economic Independence… This week is American Flowers Week. Currently, 80% of flowers sold in the US are imported. We can change that! By buying your flowers locally, you can support local jobs and economies, lower your carbon footprint, help preserve farmland, support sustainable agricultural practices, and have fun getting to know your local flower farmers. And plug up another hole in that leaky bucket! In addition to vegetables, CommonWealth now grows over 25 varieties of flowers, with bouquets and bulk flowers available for purchase. Come by our Saturday farm stand and take a bouquet home with you!