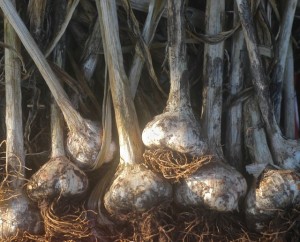 Thursday was garlic harvest day. Miraculously, the bulbs didn't rot away during the month of rain-of-biblical-proportions. Although they came out of the soil with plenty of mud attached, they'll clean up nicely and be ready for garlic lovers at our weekly Farm Stand on Saturday. One clove of garlic planted in October turns itself into an entire head of garlic by June. That we should all be so productive! If you haven't seen the "How To Peel a Head of Garlic in less Than 10 Seconds" video by Todd Coleman, it's worth a watch (it works, but you have to shake the bejeezus out of it.)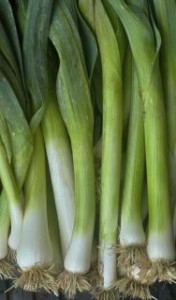 Onions, garlic, green onions, chives and shallots are all in the allium genus. Although they look similar, garlic and leeks have flat leaves, while onions and shallots have round, hollow leaves. Garlic is generally harvested all at once, but leeks have a long window during which they mature and can be enjoyed. I'm a newbie when it comes to cooking with leeks, but since we're growing them, I'm playing around with them now in the kitchen. Leeks are much milder than onions or garlic; I ate one raw yesterday, just to see what it tasted like. Pretty good! A mellow, delicate flavor without the kick of onions. My current favorite recipe is simply to saute a couple leeks in some butter in a cast iron skillet, then braise them and EAT them right up, before guilt makes me put some aside for my beloved spouse (busted as soon as he reads this.)
New crop of baby arugula this week. Tender & mild; I was eating it by the handful while harvesting. I love arugula when it's got tang but not bite.
CommonWealth Farm Stand Saturdays from 9 am to noon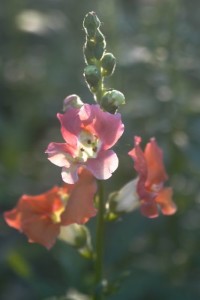 CommonWealth Urban Farms, 3310 N. Olie, OKC
In addition to the alliums (garlic, leeks, onions & green onions) we'll also have bok choy, chard, kale, lettuce mix, arugula, pea shoots and our lovely Slow Flower Bouquets.
Slow Flowers: Snapdragons
I planted THREE varieties of snapdragons (or snaps, as we affectionately call them) this year. Hey, I limited myself to just three!
It's pretty dang easy to fall in love with snaps. All those sweet little florets lined up vertically on stalks, in an array of gorgeous colors. Love the soft peach-rose combo in the photo here. Plus they have sturdy, straight stems, which makes them a snap (ha ha) to use in bouquets.
Snaps don't like hot weather; get them transplanted out early in the spring so you can enjoy them in May and June before the heat ramps up. They're fairly cold hardy, so plant before the last freeze date.
And what about that name? According the Wikipedia, it comes from the flowers' fancied resemblance to the face of a dragon that opens and closes its mouth when laterally squeezed.
Garden School: Saturday, June 6th from 8:30 – 9am
The Heat Lovers: Okra, Yardlong Beans & Sweet Potatoes
It's not too late to plant these vegetables that thrive in our hot Oklahoma summers. Whether planting sweet potatoes "slips", yardlong beans by seed, or okra by seed or transplants, we'll give tips on how to successfully grow all three crops. Seeds of our favorite varieties will be available for donation.
-Lia Woods