"As we search for a less extractive and polluting economic order, so that we may fit agriculture into the economy of a sustainable culture, community becomes the locus and metaphor for both agriculture and culture."― Wes Jackson, 
Becoming Native to This Place
Garden School Classes in July
Good Bugs: A Walking Tour of Beneficial Insects in the Garden
Saturday, July 10th, 11 am – noon
1016 NW 32nd St.
$10 per workshop, $15 per couple/pair. Or volunteer on a Saturday morning, and get in free!
Insects provide many beneficial services in our landscape, including pollination, soil building, and pest control. Plus, they are fascinating! Join us as we go on a bug hunt, and learn how to spot particular insects, learn local beneficial insects, and what plants can be grown to attract more beneficial insects.
Instructor: Kat Gant runs the school garden support program of OKC Beautiful, OKC Harvest. Kat has 20 years of experience within sustainable horticulture, including community gardening, farming, advocacy and teaching. Before joining OKC Beautiful, Kat managed a certified organic farm in OKC and developed the Employee Garden at Chesapeake Energy.
Growing Microgreens at Home
Saturday, July 17, 11 am – noon
1016 NW 32nd St.
$10 per workshop, $15 per couple/pair. Or volunteer on a Saturday morning, and get in free!
There is a $5 materials fee for this class.
Grow your own super-nutrient-dense microgreens at home. This will be a hands-on class so come ready to get dirty! All materials provided, but bring a small spray bottle if you have one. Additional supplies will be available for purchase.
Instructor:  Joshua Guess, founder of Rooted Farm, has been growing microgreens for 10+ years and is passionate about connecting people with clean, nutrient-dense foods.
 
Fungus & Microbes & Rot, Oh My! Recipes for Successful Composting
Saturday July 24, 11 am – noon
1016 NW 32nd St.
$10 per workshop, $15 per couple/pair. Or volunteer on a Saturday morning, and get in free!
Do you want to learn how to make that beautiful, rich, black substance we call "gardener's gold"? David and Allen have been building compost piles for many years, and have a profound appreciation for rot! David will show participants the composting operation at CommonWealth, and the elements that make it a success. Allen will demonstrate different methods for building a successful home compost pile.
Instructor: David Braden, compost master and co-founder of CommonWealth Urban Farms
Allen Parleir, coordinator of Closer To Earth and co-founder of CommonWealth Urban Farms
Hey Partner Farmers: What's happening on the farm?
Jenn Mabry – The Giving Garden OKC
The Giving Garden OKC is busy transforming our plot to feed our community. We donate our produce to the Homeless Alliance and have weekly, educational volunteer days. We are attempting to grow as much as we can, as fast as we can so that we can keep the donations consistent. Fall crops are our next project and transplants have already been started! We'll be building up the soil in the meantime.
Elia Wood – Lia's Garden at CommonWealth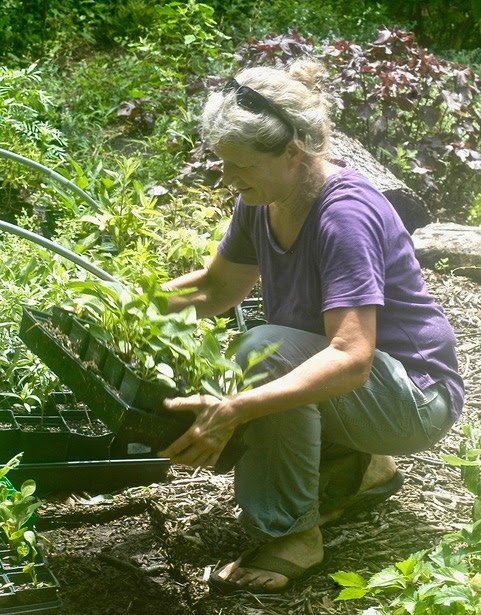 I had a wonderful spring season growing and selling vegetable, herb & native pollinator seedlings. BIG thanks to all my customers—I am so grateful to get to do what I love! Now it's time to start planting broccoli, cauliflower & other fall transplants. (Already?? Yep!) I was especially impressed this year with how many people are recognizing the importance of native plants in bringing back a functioning ecosystem. Doug Tallamy's book Bringing Nature Home has been tremendously influential for me, and I highly recommend it to anyone who cares about our future.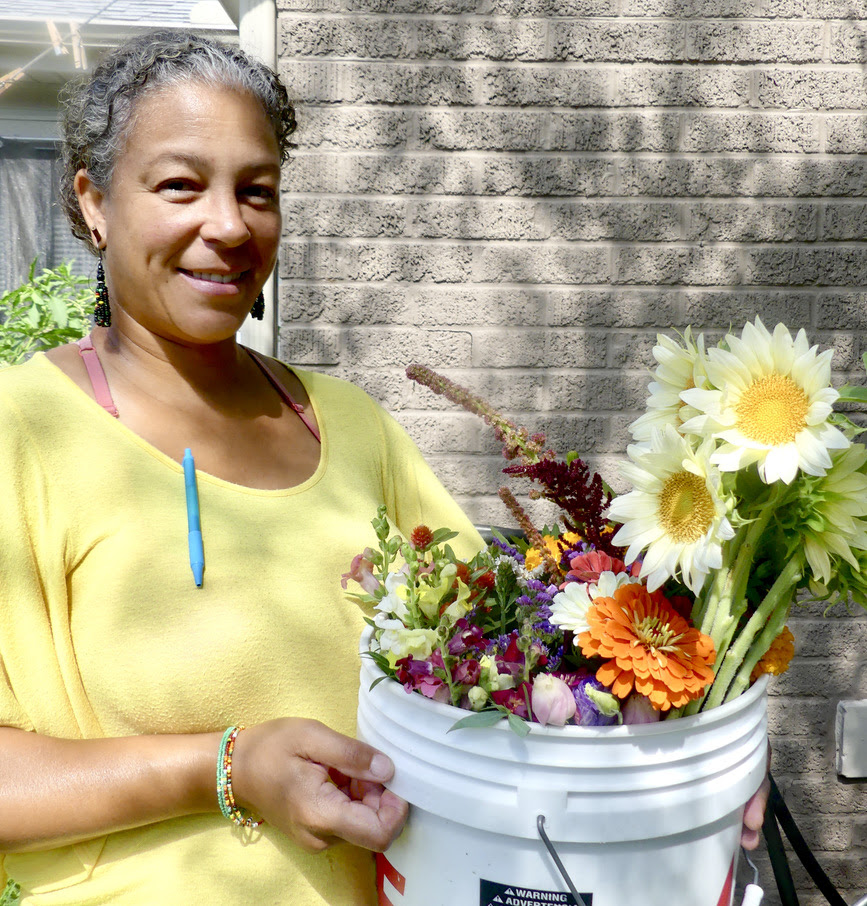 Harvesting loads and loads of cut flowers and edible flowers, with many thanks for John Stanley, a dedicated volunteer. The new colors of sunflowers are making their appearance. In addition to the traditional yellow, there are pale yellow ones, and soon a white one! Fighting the cucumber beetles and looking forward to succession plantings.
Everlyn, Sylvia, Veronica – Elgon Gardens
Everlyn, Sylvia and Veronica have lots of healthy high-yielding vegetables growing. In the 14 rows, you'll see over 200 tomato plants supported by cattle panels. We are now looking for markets for cherry tomatoes which are being harvested, and soon to be ready for harvest: slicing and cooking tomatoes. We also have Shishito peppers, edible African nightshade leaves, amaranth, and Malabar spinach ready for harvest. Can't wait for sweet potatoes later in the season.
All this great harvest is thanks to the fertile soil, worm cast manure (thank you so much for the hands and time put in by wonderful volunteers), and the working togetherness of the CommonWealth partner-farmers. The resources (both human and asset) provided by CommonWealth are very much appreciated.
Ryan Smith
S
pring was the time for flowers! Healthy rows of poppies and larkspur saw lots of pollinators stopping by daily to check-in. Now that the heat has arrived the tomatoes are producing beautiful fruits and the row of okra is starting to take off. Coming into this relatively fresh there's been a lot to learn. Working with GREAT soil coupled with wonderful tips from my fellow partner farmers has made all the difference. Advice I received early in the season: When removing larger 'suckers' from your tomato plants, remove then simply plug them straight down in the ground and you get more plants:)
Meet our Partner Farmers: Elgon Gardens

The dream to grow and eat food that has been grown and tastes naturally has been in Everlyn's mind and in 2020, Everlyn started to grow vegetables at her home in Edmond. While cultivating the crops, Everlyn realized that her clay garden soil needed amending because despite the best she had done, her vegetables did not produce well. During the 2021 spring planting season, Everlyn's daughter Sylvia started to search for a place to get compost manure.
She found Commonwealth Urban Farms which had gardening school and volunteering opportunities during that weekend. So Everlyn and her daughters (Sylvia and Veronica) went to buy worm cast manure as well as to attend garden school and to volunteer at Commonwealth Urban Farms. This is when they learned of the partner-farmer opportunity at Commonwealth, and they placed in their application. Having been accepted as a partner-farmer and after working on this wonderfully kept fertile Commonwealth Farm, Everlyn named her garden Elgon Gardens, which reminds her of the non-clay soil she is used to while growing up on the slopes of Mount Elgon in Kenya.
Everlyn decided to do farming so her family can "eat fresh food straight from the garden because fresh vegetables taste really good." She loves and has enjoyed growing food since she was a little girl. Her daughters come in handy to help their mother Everlyn who understands and speaks Swahili better than English. Veronica and Sylvia love to help their mother because they share the same ideas on organic produce and because they grew up in the farm too. The three brainstorm their ideas and put their hands to work. But farming in her Edmond Garden is "challenging because they need to learn about what grows best in Oklahoma and the seasons for planting, how to amend soil, when and how to irrigate plants."
Here at Commonwealth farm, Elgon Gardens is farming 14 rows, where they have planted 200 tomato plants, some sweet potatoes, shishito peppers, cucumbers, bulb onions and Malabar spinach. Their plantings are growing with great vigor (thanks to CW compost, fertile soil, other partner-farmers for sharing their knowledge and mainly to the volunteers for all they do.) Now they are developing markets for their vegetables.
While at CommonWealth, the three say they have already learned a great deal in this short period they have been here.  These include how to improve garden soil, how to use drip irrigation and how to use garden fabric, just to mention a few. They also love being at CommonWealth because the other CommonWealth partner-farmers share their knowledge, ideas, and resources unselfishly and that makes CommonWealth a such a wonderful place and a great family to be associated with.