Garden School Classes in August
Grill It!
Saturday, Aug. 14
11 am – noon
1016 NW 32nd St.
$10 per workshop,
$15 per couple/pair.
Or volunteer on a Saturday morning, and get in free!
Nothin' beats fresh veggies from the garden that have been tossed on the grill. Their deepest flavor is enhanced. Learn tips & tricks from grillmaster Steph as she demonstrates how to grill a variety of vegetables—and take part in sampling the results!
Instructor: Stephanie Jordan knows her way around the garden and the grill! Steph combines her experiences as a personal chef, farmer and educator to create healthy and delicious food based on locally grown produce.
Plant a Fall Salad Garden
Saturday, Aug. 28
11 am – noon
1016 NW 32nd St.
$10 per workshop,
$15 per couple/pair.
Or volunteer on a Saturday morning, and get in free!
Fall is a wonderful time to garden in Oklahoma. Vegetables and gardeners alike love the cooler weather, and we (usually!) get rain. Greens and roots grow well at this time of year in Oklahoma and will provide you with delicious salads all through the fall. Knowing what and when to plant is critical to success. Lia will share her fall planting calendar along with tips for veggies best suited for fall & winter gardening.
Fall vegetable seedlings will be available for sale.
Instructor: Elia Woods is a co-founder and partner-farmer at CommonWealth Urban Farms. She has been gardening and farming for over 30 years, and loves to help home gardeners become more successful in growing their own food.
Come Bug Out at CommonWealth!
Saturday, August 21st at 11:30 am
1016 NW 32nd, OKC OK 73118
We had SO much fun looking at beneficial insects together at our Garden School program last month that we decided to make it a monthly event. Join us in the Food Forest at CommonWealth on the 3rd Saturday of each month when we peer into the world of tiny insects as they buzz, hop, crawl, and fly though the garden. We'll have magnifying glasses and bug guides on hand to help identify these fascinating creatures. All ages are welcome.
Hey Partner Farmers: What's happening on the farm?
Tesa Linville – Sabou
Harvesting marigolds, dahlias, zinnias, lion ear, snow on the mountain and amaranth. Selling at Date with Iris, Lily Grass and the Paseo Farmers Market. Starting seedlings in greenhouse for fall, and spring, plantings.
Jenn Mabry
The Giving Garden OKC
Currently in our little plot we are growing tomatoes, cucumbers, okra, peppers, malabar spinach, melons. We just pulled our bush beans and summer squash and have sown fava beans, carrots, beets and pole beans and even got in a row of potatoes, thanks to my forgetfulness that they were in my pantry. I think the hardest part of this season was that week-long rain; however, it really showed me where the soil needs love. We are looking forward to getting in more fall crops and to continue growing in the winter.
Elia Woods – Lia's Garden at CommonWealth
It's already time to think about fall gardens, and I've got broccoli & cauliflower seedlings that will be available for sale in mid-August for anyone wanting to plant them for fall. It can be a bit tricky to start transplants in the heat of the summer, when grasshoppers & cabbage worms are eager to devour any tender little seedlings, but each year I learn a few more tricks for making it work. I'm seeding lettuce, arugula, kale & spinach, green onion transplants now, too. Little Bear, our new kitten, loves playing in the garden while we work and keeps us thoroughly entertained!
Ryan Smith
This beautiful Summer heat helped produce an incredible bounty of full and delicious tomatoes and spicy peppers. Our home has never seen so much salsa and gazpacho! Looking forward to this August with everyday showing explosions of growth in the okra rows. I'll start planning for the fall planting season over some fried okra in the coming weeks.
Everlyn, Sylvia, Veronica – Elgon Gardens
We are having a great experience with finding customers for our farm produce. We have established some locations including Paseo Farmers Market and this has played a big role in selling our produce there (many thanks). We'll be planting some fall crops soon.
Meet our Partner Farmers
Jenn Mabry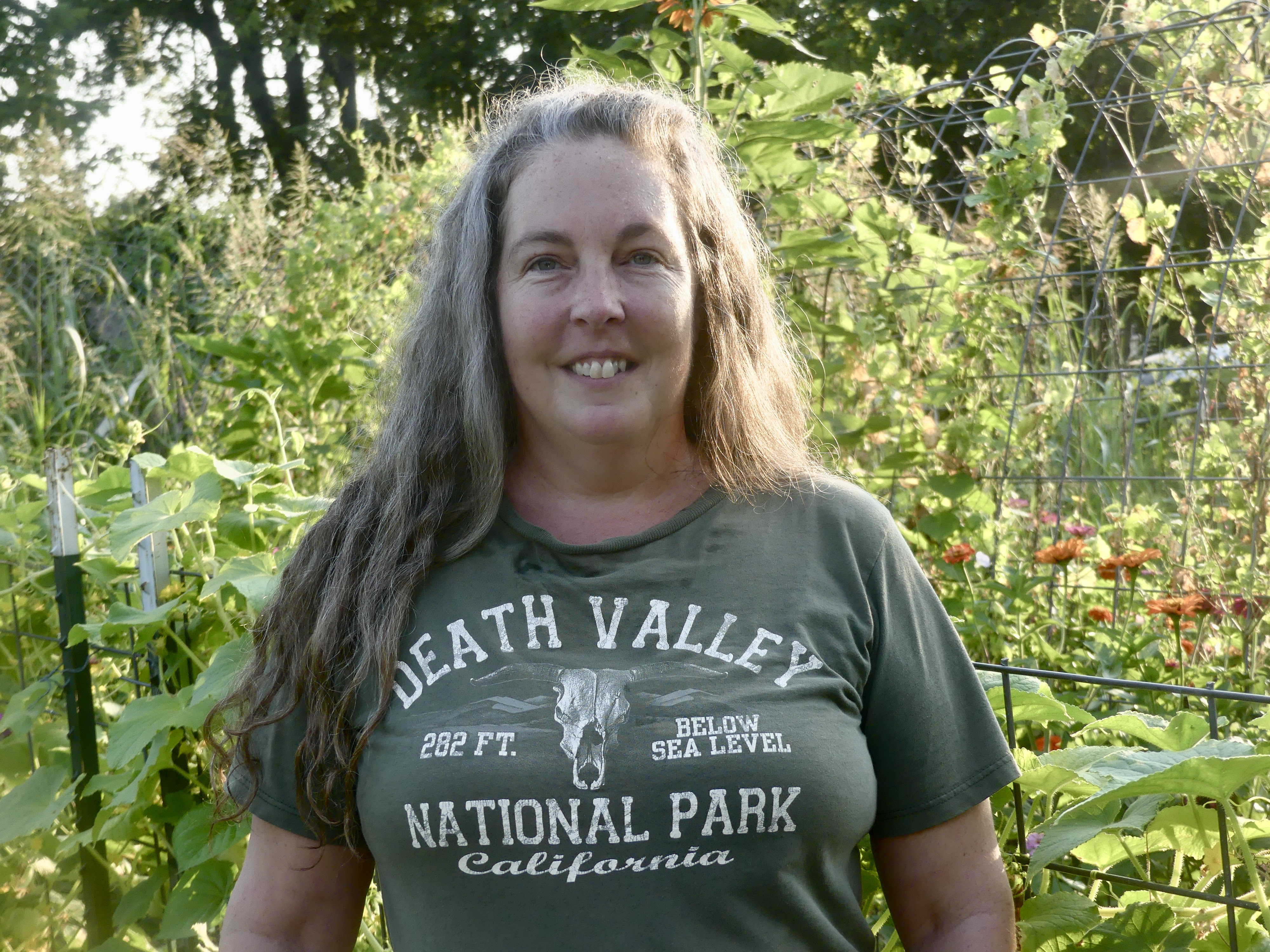 Jenn Mabry was living the "go-go-go" corporate life, with its deadlines and high-pressure demands—until, after a year at a new job, working in a cubicle, she couldn't take it anymore.
It was a risk for a single mom with a daughter, but she started classes in occupational therapy, hoping to do art therapy. When she took a horticulture class at OSUOKC, everything changed. "I didn't take horticulture," she says. "Horticulture took me." As part of her learning, she took an internship at CommonWealth Urban Farm. That was 7 years ago. Since then, she's been growing food and building community around growing food—primarily, until last fall, at the garden at Chesapeake Oil. TLC Nurseries paid her salary to oversee the Chesapeake garden. There, she and a growing cadre of volunteers grew vegetables for the OKC food pantry and, when the production of veggies increased, for the Homeless Alliance as well.
"It was a full block garden," she says. "I couldn't do it myself. I let friends know through Facebook that I needed help."
As volunteer numbers grew, as production increased, so did the sense of community. Volunteers wanted to learn more, so Jenn developed classes. They put in a Monarch Way Station and learned about pollinators and how insects work together.
"They became proud of what they were doing in the garden," says Jenn. "They'd bring family and friends and show them the row they were tending."
Girl Scout troops volunteered. "It's important for children to learn where food comes from," says Jenn. "They are apt to try it if they've grown it."
Potlucks in the garden gave Jenn a chance to introduce new foods, like carrot top pesto.
Working in the garden, with a variety of people as well as plants, "means something" to people, says Jenn. Providing food for people experiencing homelessness, including in one OKC public school, has come to mean a great deal to Jenn. "One in four children in public schools in the U.S. are food insecure," she says. "Their only meal is at school."
"I wanted to do something to help." But then Chesapeake closed its campus in Oklahoma City, including the garden. So last fall Jenn became a partner-farmer at CommonWealth.
"CommonWealth saved my life," she said. "I needed space to continue to grow food for the Homeless Alliance. Fresh food is hard for them to get."
Now, every Saturday the dedicated volunteers who garden with Jenn come to CommonWealth to continue their work together. "It's great being here; being in community with like-minded individuals." She and her team are one of five partner-farmer teams at CommonWealth.
Jenn is establishing a not-for-profit organization to continue her work growing food. She hopes to establish gardens around Oklahoma City and has secured the next garden location—as well as plenty of work for her community of volunteers. "It's covered in Bermuda grass, so we'll have to dig it and plant cover crops this coming fall."
While developing more garden projects and education through her organization, Jenn also hopes to continue to grow food at CommonWealth—for her own well-being. "I want that to be my own garden. I want to grow niche crops for chefs. I love being outside; it's therapeutic."
Jenn, growing up in Oklahoma City, was never interested or ever helped in her parents' garden. Her time is now.