Garden School Classes in September
Saturday, Sept. 11
11 am – noon
1016 NW 32nd St.
$10 per workshop,
$15 per couple/pair.
Or volunteer on a Saturday morning, and get in free!
There is magic in the Monarch chrysalis! Were you one of the lucky children whose teacher kept one in the classroom? Not only is a beautiful experience, raising butterflies is helpful! Fewer than 10 percent of monarch eggs and larvae will survive to become adult butterflies, largely due to predation of the larvae. Raising them in an indoor habitat boosts survival to rates well over 90 percent. A panel of experts will show participants how and where to look for butterfly eggs and larvae and how to support them as they go through their amazing transformation.
The first 10 educators get in free and there will be door prizes and giveaways. 
Instructors: Holly Hunter is a retired IT professional who now spends her time gardening for wildlife.  She runs a Monarch Way Station for her local library in Warr Acres, and she works with Okies For Monarchs and the Master Gardeners to install pollinator gardens in public spaces.
Jennifer Klein Plato provides habitat for Monarchs and Black Swallowtails at her home garden, Waystation. Last year alone, Jennifer raised and released over 150 monarch butterflies.
Stephanie Jordan is the Pollinator Outreach Coordinator for The Nature Conservancy of Oklahoma, and she does education and outreach for Okies for Monarchs. She has extensive experience raising, championing, and advocating for Monarchs and other pollinators. For several years she grew
native and other pollinator plants to sell at farmers markets and
festivals. She lives in the CommonWealth community.
Raising Backyard Hens
Saturday, Sept. 25
11 am – noon
1016 NW 32nd St.
$10 per workshop,
$15 per couple/pair.
Or volunteer on a Saturday morning, and get in free!
Have you ever thought about keeping backyard chickens? Hens are fun and easy pets to include in your life, and they lay eggs, too! Come meet a couple of local hens and learn everything you need to know about raising and taking care of your own flock.
Instructor: Sara Braden has been sharing her backyard with chickens since 2009.
Let's Bug Out at CommonWealth
Saturday, September 18 at 11:30 am
1016 NW 32nd, OKC OK 73118
We had another great day searching for bugs in our own back yard in August!  We hope to see you here for our next adventure. Join us in the Food Forest at CommonWealth on the 3rd Saturday of each month as we peer into the world of tiny insects buzzing, hopping, crawling, and flying around the garden. We'll have magnifying glasses and bug guides on hand to help identify these fascinating creatures. All ages are welcome.
Hey Partner Farmers: What's happening on the farm?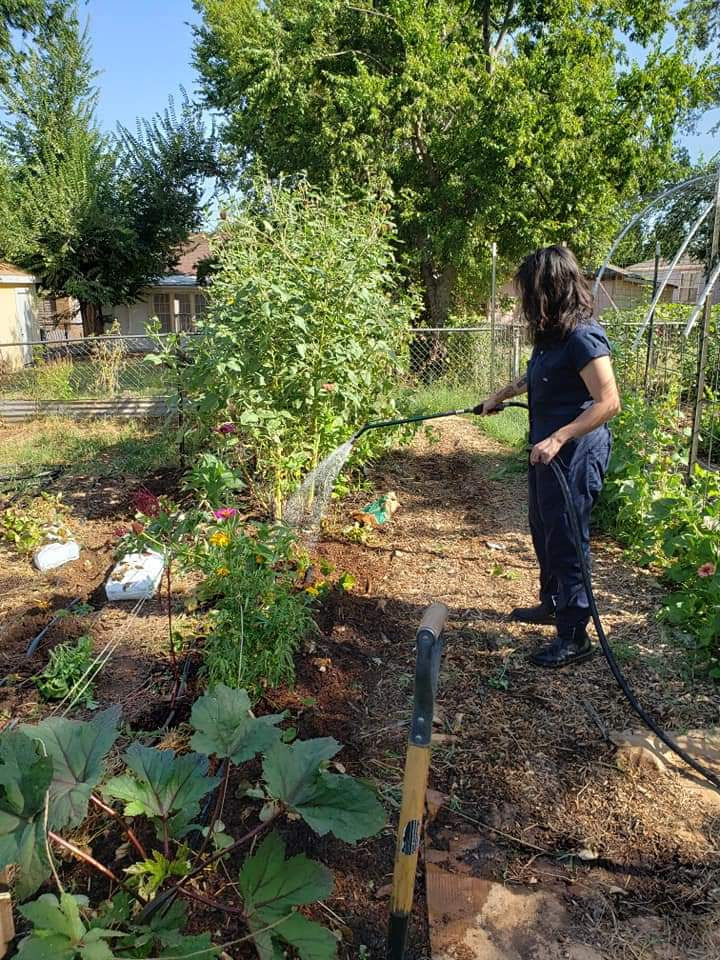 Jenn Mabry
The Giving Garden OKC
Fall is on its way and we couldn't be happier. Cover crops, root crops, and greens are what we are focusing on this month. We are looking forward to cooler weather as we tend to get more volunteers when it cools down, Giving Garden OKC also has a new website that was built and designed by our Girl Scout troop and it's amazing. Check it out!
https://okcgivinggarden.wixsite.com/grow.
For more information on how to get involved through volunteering and/or donations, please email 
givinggardenokc@gmail.com
.

Elia Woods – Lia's Garden at CommonWealth
I'm eager for the end of hot weather and the arrival of fall! But I had a bountiful harvest of tomatoes, cucumbers, peppers, & okra this summer, so I can't complain too much about the weather. Cabbage worms, grasshoppers, and harlequin beetles damaged most of my fall veggie transplants, which is a bit discouraging, but I've got a second round of them started and hopefully can keep the bugs off. I have a good selection of native perennials available for sale all month. Fall is an excellent time to transplant perennials; the warm soil and mild-fall weather promote good root growth before winter, and give the plants a big head start over perennials planted in the spring. But Little Bear, our farm kitten, is growing faster than any of them! 
Lia's Garden at CommonWealth
.

I'm eager to see the flowers on Rosella pop out. There's a good stand and chefs are ordering the leaves for sauces. Besides harvesting sunflowers, zinnias, marigolds, celosia, I'm planning for fall and winter plantings of edibles in the greenhouse and hoop house.
Everlyn, Sylvia, Veronica – Elgon Gardens
The Elgon Farm has had a successful planting season with no unsolvable challenges. The farm has had bountiful tomato harvest and we've been fortunate to have a great opportunity to sell our produce at Paseo Farmers Market. We keep learning new things like tomatoes going dormant when there's prolonged period of high temperatures. Now here comes fall and we will shift our efforts to growing kale and carrots.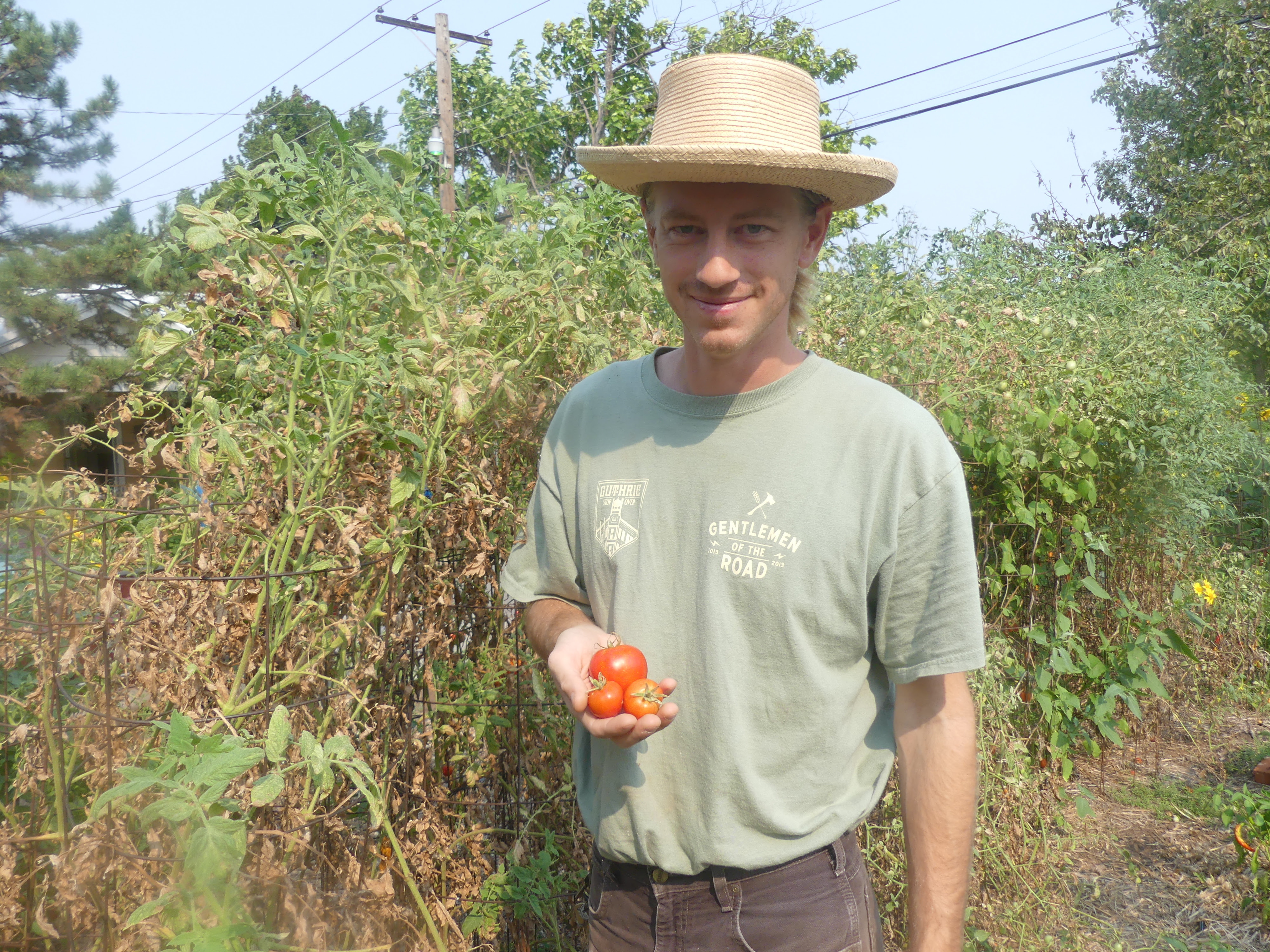 Ryan Smith
This Summer was HOT, HOT and HOT! June and July saw an over abundance of tomatoes and peppers and now August and September brought us the problem of too much okra!! Garden- fresh salads and salsas got me through these intense weather months. Coming up this Fall we're planning on row after row of a variety of salad greens and hoping our tomatoes can hold on just a little longer before it starts getting cold again! This summer was exceptionally edifying to my life. Getting to learn and grow alongside the CommonWealth community from Spring season to now quickly melted all the cold frigidity we were all feeling back in February:) So I raise my overgrown Okra pod to all the beautiful things that come along with Fall!
Meet our Partner Farmers

Ryan Smith
Ryan Smith came to CommonWealth to volunteer with Lia gardening on the farm. The foundational component of a healthy garden—composting—intrigued him and he hooked up with the composting team, where he learned a lot. "Composting showcases the problem with food waste and distribution and gardening for soil, not plants," he said when we profiled him in this newsletter as a volunteer. "I'm becoming a dirt nerd."
Indeed he did. And now he is a Partner-Farmer at CommonWealth. He grows vegetables in the first several rows of the farm.
Ryan grew up in Grapevine, Texas, attended Oklahoma Baptist University, worked in child social services in Oklahoma City before returning to Texas, to Austin, where he worked for Habitat for Humanity and AmeriCorps and volunteered on a commercial farm supporting AmeriCorps. It was there he began to appreciate what he called "real food."
After he and wife Mary Ann moved back to Oklahoma for her doctoral work at OU, it has been at CommonWealth, as volunteer and as the neighborhood handyman, that he has come to appreciate community. "It's almost a religious experience here," he said.
Mary Ann helps with weeding as her time allows. Ryan has the experiences of his first spring and summer seasons as a partner-farmer urging him forward. "In this space with fantastic soil, I've been surprised how easy it's been," he says. "Put down compost, put down plants…We had tomatoes, okra, shishito, jalapeno, marconi peppers."
"I even made my first unofficial sale when Sylvia needed some peppers to fill an order they had. I got a check for $50!"
Next year Ryan hopes to focus on what it takes to grow enough okra to sell. This fall, his main focus is on planting and growing salad greens and a couple of rows of cover crops. And his big dream would bring him full circle at CommonWealth: As he came to the farm to volunteer in the garden, he wants next to find a way to bring more volunteers to garden with him, and provide fresh vegetables for them to take home.

Join us at the Prairie Dinner
Green Connections' annual Prairie Dinner is coming up! It's an evening outdoors in a beautiful setting (this year, the Harn Homestead, in OKC) with people who support life on Earth enjoying locally-grown food (our friends at Kam's Kookery provide the scrumptious feast) and smooth jazz by the outstanding Prairie Jazz Trio. It's at 6 p.m., October 3.
Proceeds from the evening go to Green Connections' earth education programs at places like CommonWealth Urban Farms! Make your reservations now: 
https://greenconnectionsok.org/prairie-dinner/