Gosh, that was heartwarming! Harvest Potluck in the Garden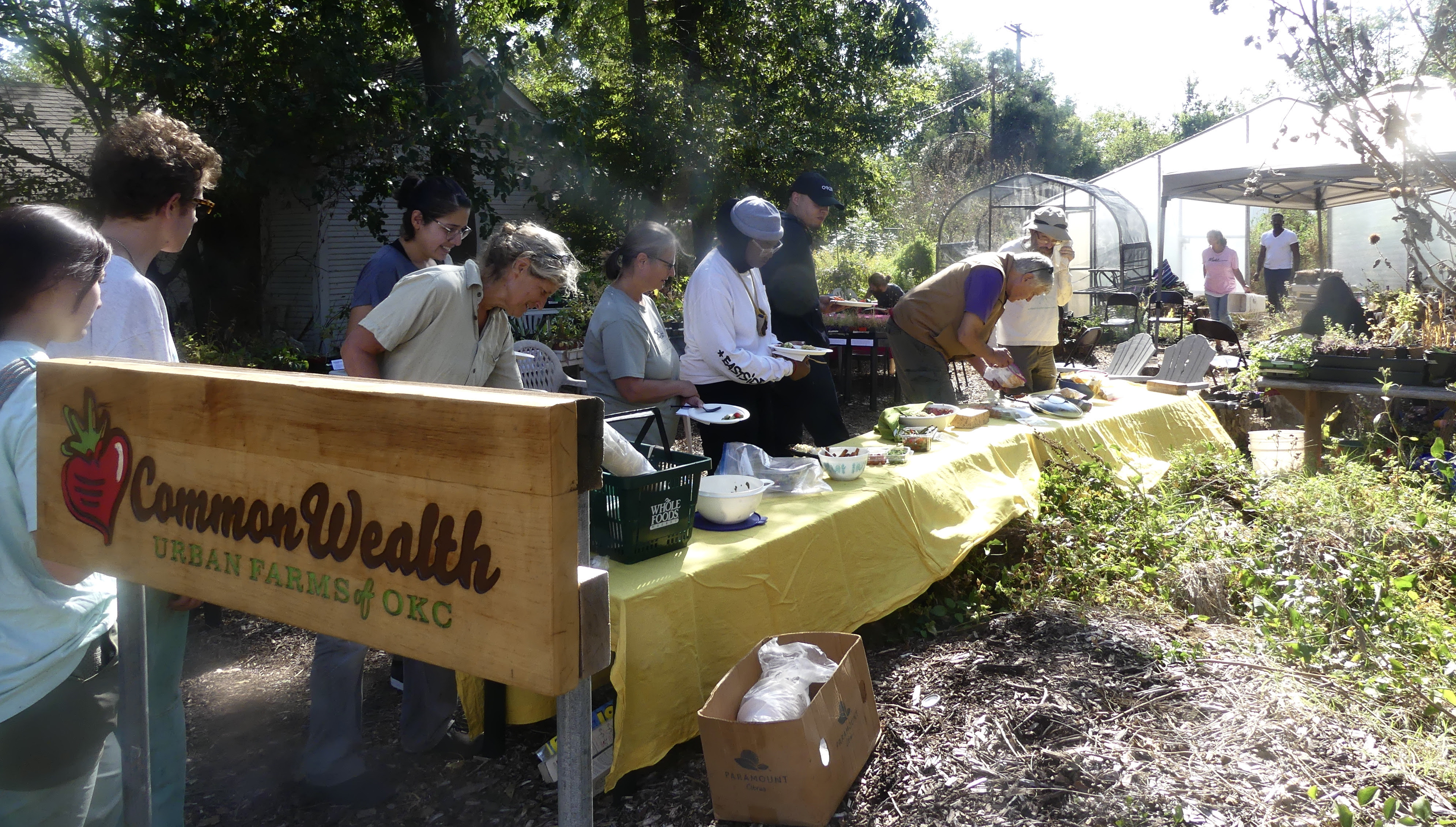 As always, our annual celebration of community, food, music was delightful. It was a beautiful autumn day on the farm and we enjoyed it with many friends.
The Great Pumpkin Smash
Saturday, November 27
This family-friendly event is free.
Drop in between 9 am and noon.
1016 NW 32nd St.

What to do with all those pumpkins, once Thanksgiving is over and cold weather sets in? Bring them and the kids to CommonWealth, where we'll make a big compost pile and everybody can toss and smash pumpkins to their hearts' delight. Messy fun for the whole family! You can bring your leftover hay bales, too, and we'll add them to the mix.
And this very special free class: Using Compost as Heat Source for Growing Seedlings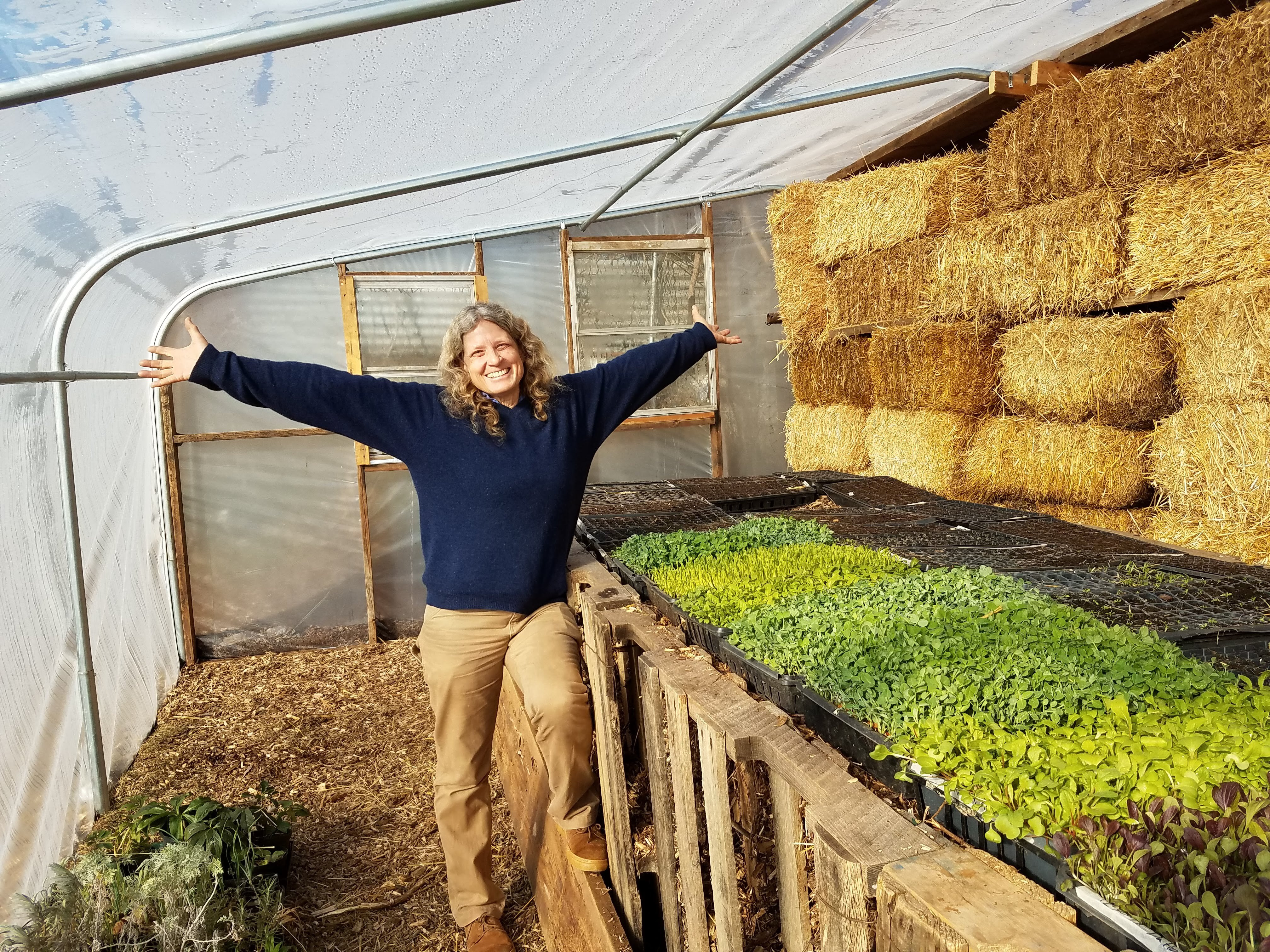 Saturday, November 27th
11 am to noon – free class
1016 NW 32nd, OKC 73118
Learn how to take advantage of the heat produced from a compost pile to create a warm space to get your seedlings started this winter! We'll use some of those smashed pumpkins from the Great Pumpkin Smash to start building a compost bin inside our greenhouse, and demonstrate the elements of successful hot bed. This low-tech method of producing heat can be used under a low tunnel or inside a greenhouse; we'll show examples of each.
Hey Partner Farmers: What's happen

ing on the farm?

Lia thinks of the summer garden—tomatoes, okra, cucumber vines—as the "tall garden." Well, it's time now for the "short garden:" root crops and low-growing greens. In the field, our partner-farmers are growing cold-hardy greens (lettuce, spinach, kale) with row-covers at the ready for those freezing nights. The women of Elgon Gardens are growing garlic too and trimming up the asparagus. Ryan Smith has planted cover crops to further nourish the soil on his rows. Jenn Mabry and her volunteers are weeding the rows, harvesting early fall lettuce, carrots and radishes—and seeding more winter greens.
In the warmth of the hoop house on those sunny winter days, the lettuce, spinach, arugula, kale growing there will warm your heart as well! Tesa has flower seedlings planted in the hoop house, so watch her space for early spring booms!
Lia just placed a big seed order for native perennials that she'll start in our greenhouse over the winter—including more varieties of Oklahoma natives. Too, she's honing her skills at taking cuttings from perennial herbs, like rosemary and lavender, that are hard to start from seed but propagate well. Soon the greenhouse will be full of trays and trays of baby plants, a happy respite from cold weather outside!
Our Food Forest is Growing!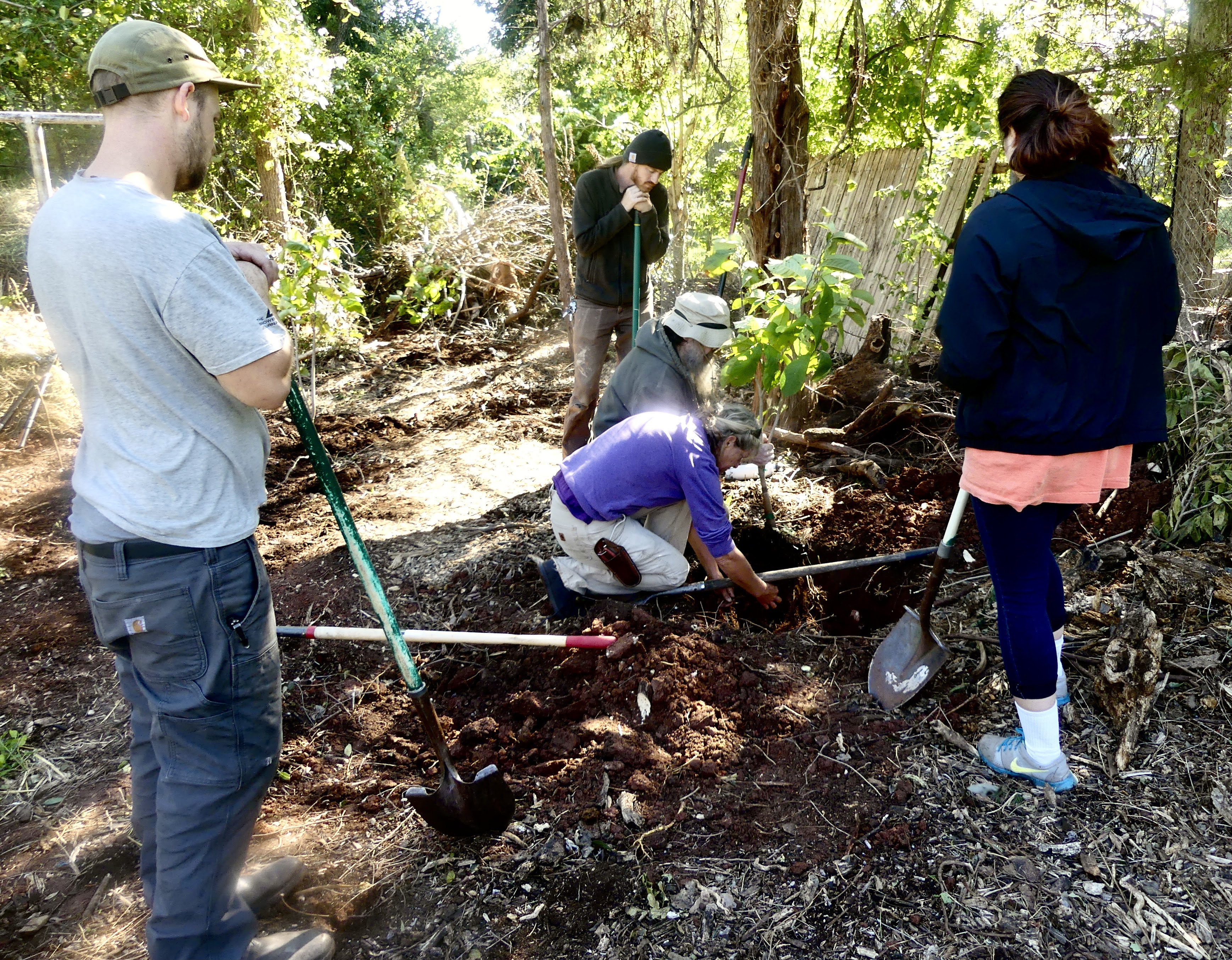 Have you ever tasted a pawpaw? Or even heard of them? Native to North America but tasting like the tropics, pawpaws have been described as having a custard-like flavor of mango-banana-pineapple. Because they bruise easily and have a short shelf life, pawpaws are best grown locally. We just planted 4 varieties of pawpaw on the south end of CommonWealth's food forest. It will be a few years before they begin to produce, but it's not all delayed gratification; for the last month, we've been harvesting figs every week from a tree we planted several years ago. Fresh figs in November!
CommonWealth's Amazing New Resource
Using Compost as a Heat Source for Growing Seedlings on Hot Beds and in Greenhouses
Hot off the press! We've just completed a how-to video series and written guide on using compost to create hot beds for starting seedlings in the winter without relying on fossil fuels.
Thanks to the Oklahoma Department of Agriculture, Food and Forestry for grant funding to provide these educational materials free of charge. You can find more information and links to them at http://commonwealthurbanfarms.com/compost-heating/