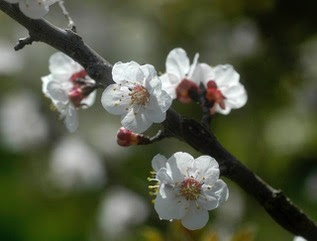 Wow. Life feels surreal right now. The situation with the coronavirus is changing so rapidly, and I have no idea what's really going to happen. What now? Here are two things I do know.
1. There is ground beneath our feet. Being outside is where I feel most grounded. Sunlight, fresh air and the big wide sky are a balm for my soul, and being outside is the best way to clear my news-overloaded mind. "Stay Home" doesn't mean we have to stay inside! Although it's pouring down rain as I write this, the sun will be out again by the time this reaches you. No need for social distancing when it comes to our wider community of redbuds and elm trees, daffodils and hellebores, green lacewings & ladybugs. We have many sources of companionship.
2. Wealth is not defined by money or the stock market. As individuals and as a community, we have a wealth of imagination, compassion and (hopefully) common sense. As farmers and gardeners, we have biological wealth. We've been adding compost, growing cover crops and not-tilling for years at CommonWealth; I see the payout every day in rich, fertile soil, full of life. We have a wealth of experience; how to grow a lot of food in a small amount of space, how to nourish community. Everywhere, we have a wealth of beauty. A wealth of talent.
This is living wealth; the more we share it, the more it grows. As we enter a time of severe financial stress, how do we create an economy of shared abundance? Can we use the coronavirus crisis as a portal to creating a society more just and beautiful than we have ever had before?
Let's do that. Let's start now.
—Lia
Seedling Sale: Fridays and Saturdays
Seedling & Veggie Sale
Fridays, 4-6 pm 
Saturdays, 10 am – 2 pm
1016 NW 32nd, OKC
Are you ready to get your garden going? Lia has the greenhouse FULL of seedlings, eager to head home to someone's garden! For vegetable growers, we have broccoli, cauliflower & green onion transplants; plus lettuce, kale, arugula, cilantro & chard seedlings. For all of you flower lovers, we have sweet peas, larkspur, snapdragons, bee balm & more.
Our plant sales are outdoors and not crowded. If you prefer to order ahead and pick-up curbside, email Lia to make arrangements.
If you are new to gardening, we have a video series just for you! Check out our videos here.
Plus Fresh Leafy Greens Ready to Eat
Also available at the seedling sale for eating right now: fresh leafy greens!
Lettuce Mix, Spinach, Kale, Arugula, Spicy Greens & Salad mix, $5 per 8 oz. bag.
Straight from our farm to your kitchen.