Garden School 2020 Begins!!!
What a fantastic line-up of Garden School classes at CommonWealth this year! See the full schedule at the education tab on our website. First class is one of everyone's favorites. Come learn from Lia.
March 7th: How to Grow a Vegetable Garden
Even if You've Never Planted a Seed in Your Life
11 a.m. to 12:30 p.m.
CommonWealth Urban Farms
1016 NW 32nd St.
It's actually pretty simple! Elia will cover the basics – soil, water, seed – that guarantee your first garden will be a delicious success. Participants will help plant a container garden that can be scaled up or down, and is suitable for backyards, front yards, decks or patios. Each person will also have the chance to start several pots of seeds to take home. Here's to a successful first garden!
Instructor: Elia Woods, co-founder and partner-farmer at CommonWealth
Veggie seedlings will be available for sale.
$10 per workshop; $15 per couple/pair, unless otherwise noted. Or, volunteer on a Saturday morning, and get in free!
Patreon
You can sign up to be a CommonWealth patron at the level of $10 a month and up and receive discounted Garden School admission. Learn more here: https://www.patreon.com/commonwealthurbanfarms
And our First Saturday Monthly Farm Tour is this Saturday
9 a.m.
3310 N. Olie
It's free!
Partner-Farmer Mini-Reports: What are they up to this week?


Tesa at CommonWealth Urban Farms
Growing edible flowers, edible herbs, cut flowers
"We've had plugs of seedlings all over the house, trying to keep them from getting too cold or too hot. Last weekend we put in a compost windrow with a hoop and put the plants out and they seem to be popping out of it. I did bring them all back in on a 20-degree night, just to be safe. They're happy now in the low tunnel!"
Megan—Circleculture Farms at CommonWealth

Growing specialty cut flowers.
"Been working a lot on prepping beds, starting lots of seeds, and getting prepped for Spring Bulbs! I still have a few Spring Flower Shares available. More information at www.circleculturefarm.com
Jacob—Circleculture Farms at CommonWealth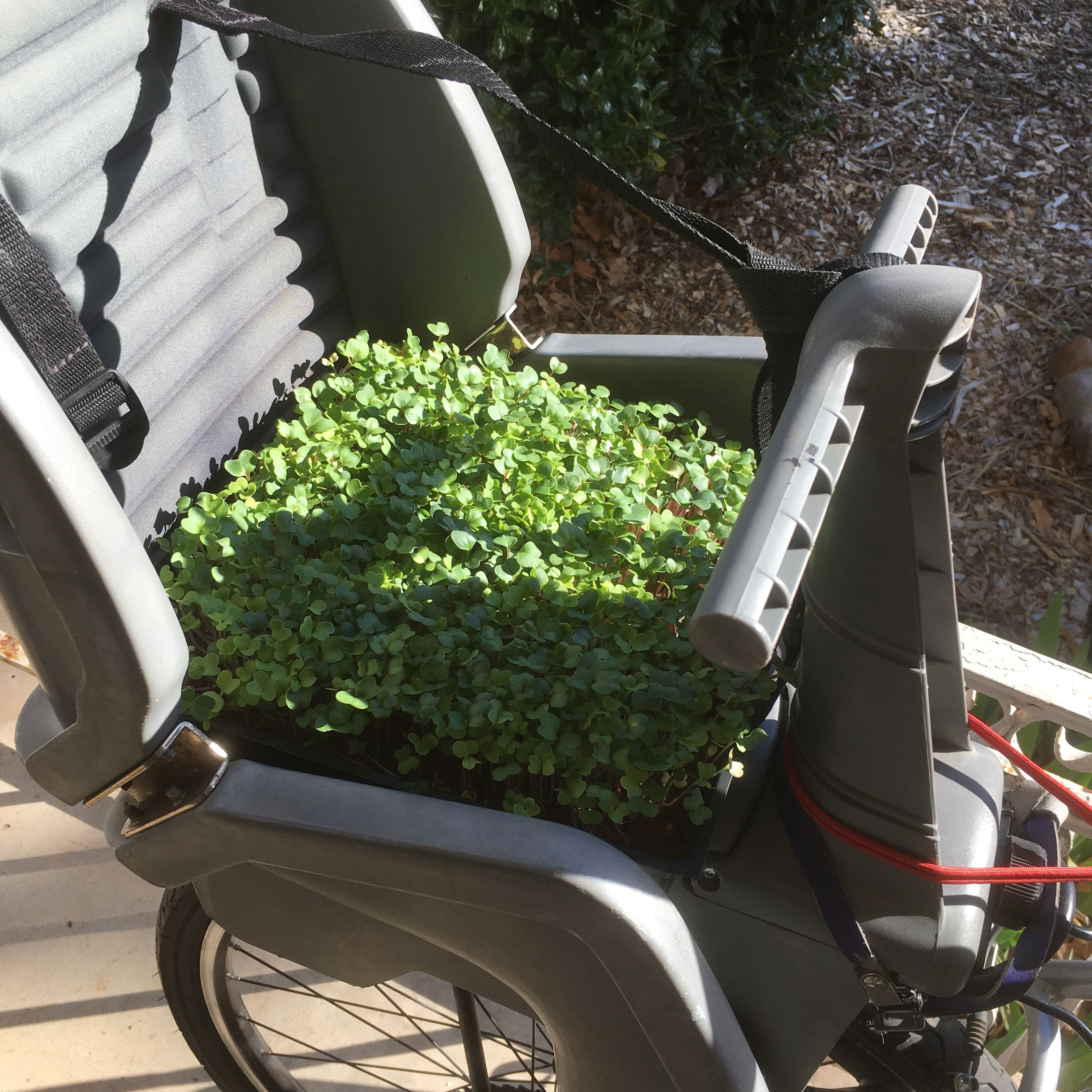 Growing market vegetables, salad mixes, mushrooms.
"This last week I've been chopping the over winter cover crops and laying the trimmings in the walk rows. I'm going to let it wind dry and use it as mulch. I also started delivering produce by bicycle. Microgreens to Red Rooster. People are already finding Morel Mushrooms!
Lia at CommonWealth Urban Farms
Growing vegetable, flower, herb and pollinator seedlings. Managing food forest, offering educational programing.
I am up to my elbows in seedlings! And loving it. Our compost-heated greenhouse is full up, and I've moved the hardier seedlings out to the compost-heated hot beds.
Our first seedling sale will be Friday, March 13th from 4-6 pm & Saturday, March 14th from 10 am – 2 pm, in front of the hoop house at 1016 NW 32nd Street.
I'll have the cool weather seedlings ready: broccoli & cauliflower, green onions, lettuce, kale, mustard greens, chard & arugula. For you flower lovers, I'll have larkspur, sweet peas, snapdragons, sweet william (dianthus) and false queen anne's lace (ammi.) LOTS more veggie, flower, herbs & pollinator seedlings coming soon after that.
Compost as a Heat Source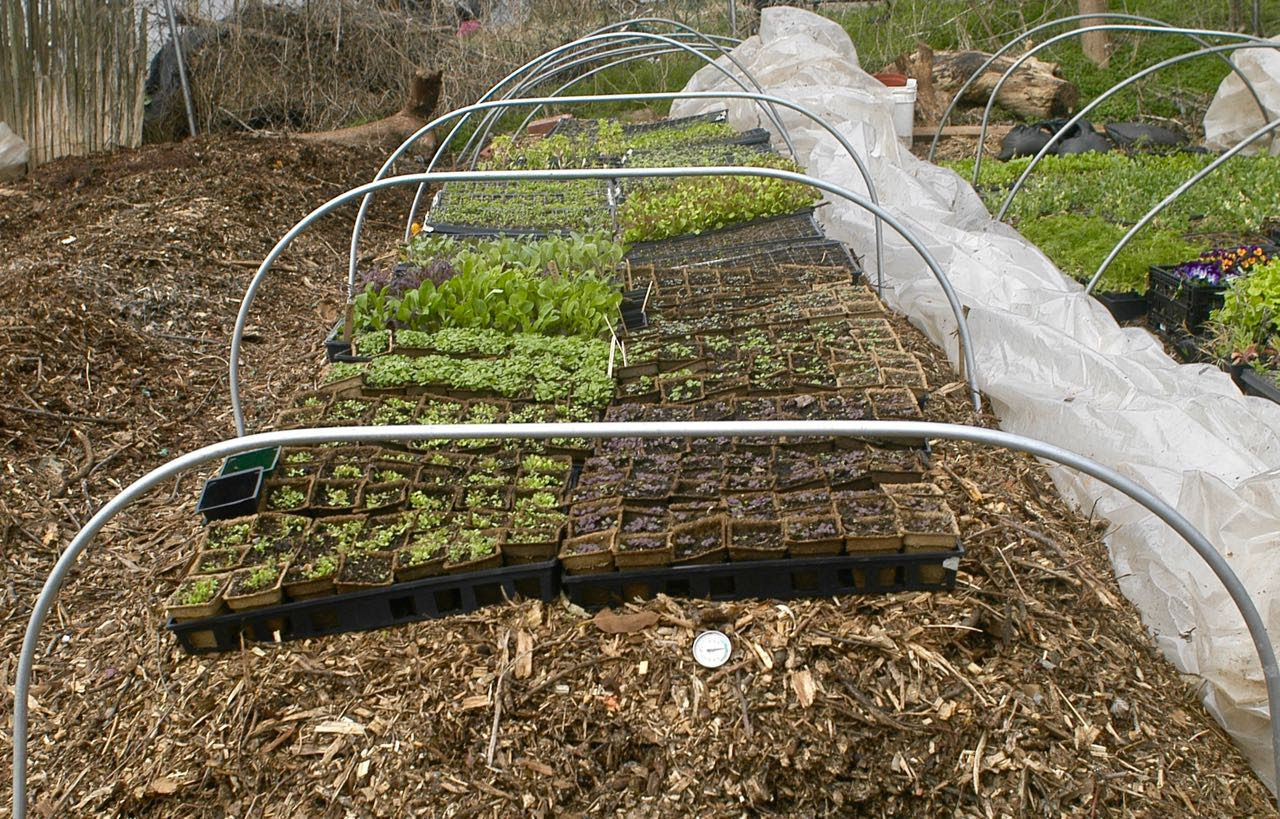 Here's our first hot bed for the season, just completed by our amazing team of compost volunteers, with lots of little seedlings on top, enjoying the heat emanating from the hot bed. So, what IS a "hot bed"? Hot beds are actually an old, tried-and-true method of creating a heated environment for seedlings during the cold season.
Compost piles create heat as they decompose due to the activity of millions of tiny organisms breaking down the organic matter. A hot bed takes advantage of this fact. The top of the compost pile/hot bed stays warm, creating a perfect environment for seed starting and for young seedlings. On cold nights, we pull a layer of plastic (or two layers, on really cold nights) over the hoops to contain the heat and keep the babies warm all night. It works! Last year, our coldest night was 12 degrees and the temperature under the hoops was 41 degrees 🙂
Thanks to a grant from the Oklahoma Department of Ag, we're offering two workshops in October on using compost to heat greenhouses and seedling beds.
More info & dates on that soon 🙂
Meet Volunteer Katy Kephart
Katy Kephart discovered CommonWealth Urban Farms in 2014, when she was looking for a place to buy locally grown vegetables. Not only did she find vegetables growing, she found the reason the vegetables are so healthy: the composting operation.
She's been a weekly volunteer with the composting team ever since. For six years, she comes Mondays, and some Saturdays, and, along with other team members, climbs aboard the trailer laden with boxes and pallets of outdated produce from Whole Foods. She helps sort the produce, pushes it in wheelbarrows to the compost piles, loads chips in wheelbarrows to add in layers to the piles, turns the sifter so that rich finished compost filters down into buckets ready for the farm and compost customers. This is work she loves.
"I like being outside and working with a purpose. The air is so clean here. It's so good. And I like the community," she says.
"It's so much more than sorting garbage. You see the full cycle. I bring all my kitchen scraps and the worms eat them and make this awesome rich stuff."
Katy, a massage therapist, grew up in Oklahoma City. Classically trained in singing, she also plays guitar and composes songs. Following some time traveling, she has come back to performing, at Oklahoma Opry and other venues.
Recently moved into a house, she is planning to put in a garden this spring. "I love being able to go outside and eat food right out of the garden."
Her years working with the CommonWealth team have contributed to her change in perspective, she says, about waste. "I've cut back on waste. Instead of destroying and wasting, I re-purpose and put back in the Earth."
Her volunteer commitment to the work of CommonWealth is inspiring. "This community is part of my family of choice," she says. "I don't plan on not coming here as long as I live in Oklahoma City."