Garden School: Plant a Fall Salad Garden
Saturday, Sept. 7

11 a.m. to noon
3310 N. Olie
$10 per person, $15 for couples/pairs.
Free to volunteers. Pay upon arrival.
Lettuce and carrots and kale, oh my! Fall is a wonderful time to garden in Oklahoma. Vegetables and gardeners alike love the cooler weather, and we (usually!) get rain. Knowing what and when to plant is critical to success. We'll focus on greens and roots that grow well at this time of year in Oklahoma and will provide you with delicious salads all through the fall.
Fall vegetable seedlings and cover crop seed will be available for sale.
Bonus! At noon, following the class, Lia will demonstrate how to make low tunnels to extend your growing season into the winter. (See below.)
Instructor: Elia Woods, co-founder and farm manager of CommonWealth
EXTRA! EXTRA! 
Low Tunnels & Hoop Bending Demonstration: Noon, Sat. Sept. 7th
Protect your veggies through the fall and winter with low tunnels made from hoops and row cover. CommonWealth now has 2 sizes of hoop benders, 
available as a community resource.
  Lia will demonstrate how to use hoop benders to turn lengths of pipe into 3' to 6' wide hoops that will last for decades.
This is a great opportunity to bend hoops for your own garden. Bring your own EMT pipe (galvanized electrical conduit), readily available at hardware stores in 10' lengths. We recommend 1/2" diameter. We'll also have some pipe available for sale that you can bend on-site.
We use this simple method at our farm to protect greens and root crops through the cold season and to start vegetables earlier in the spring, as well as for shade & insect protection.
Check out the entire 2019 Garden School schedule here.
And consider this: You can sign up to be a CommonWealth patron at the level of $10 monthly and up and receive discounted Garden School admission. Learn more here:www.patreon.com/commonwealthurbanfarms
Fall Seedling Sale!
Saturdays, now through October 5th, from 9 am to noon
1016 NW 32, OKC
Available now: lettuce, kale, Chinese cabbage, plus a few broccoli & cauliflower seedlings left.
Also: rue, bee balm (monarda fistulosa), salvias, catmint, columbine, artemisia, Black Eyed Susan (rudbeckia), sage & thyme.
Flower gardeners: we'll have ornamental kale & stock seedlings available very soon!
Pricing: $2 for 2" pots, $3 for 3" pots. Some larger sizes are also available.
Fall Cover Crop Seed Available Now! 
Late September & October is the perfect time to plant cover crops to improve the health of your soil. Choose a small packet for $2 (covers 100 sq. ft.) or large for $5 (covers 500 sq. ft.)
Our mixes include winter rye, Austrian winter peas, and crimson clover, as well as daikon radish & mustard (opt.)
Cover crops are a simple, inexpensive and highly effective way to improve the quality of your soil.
Basilmania Two was Magical
Thanks to all!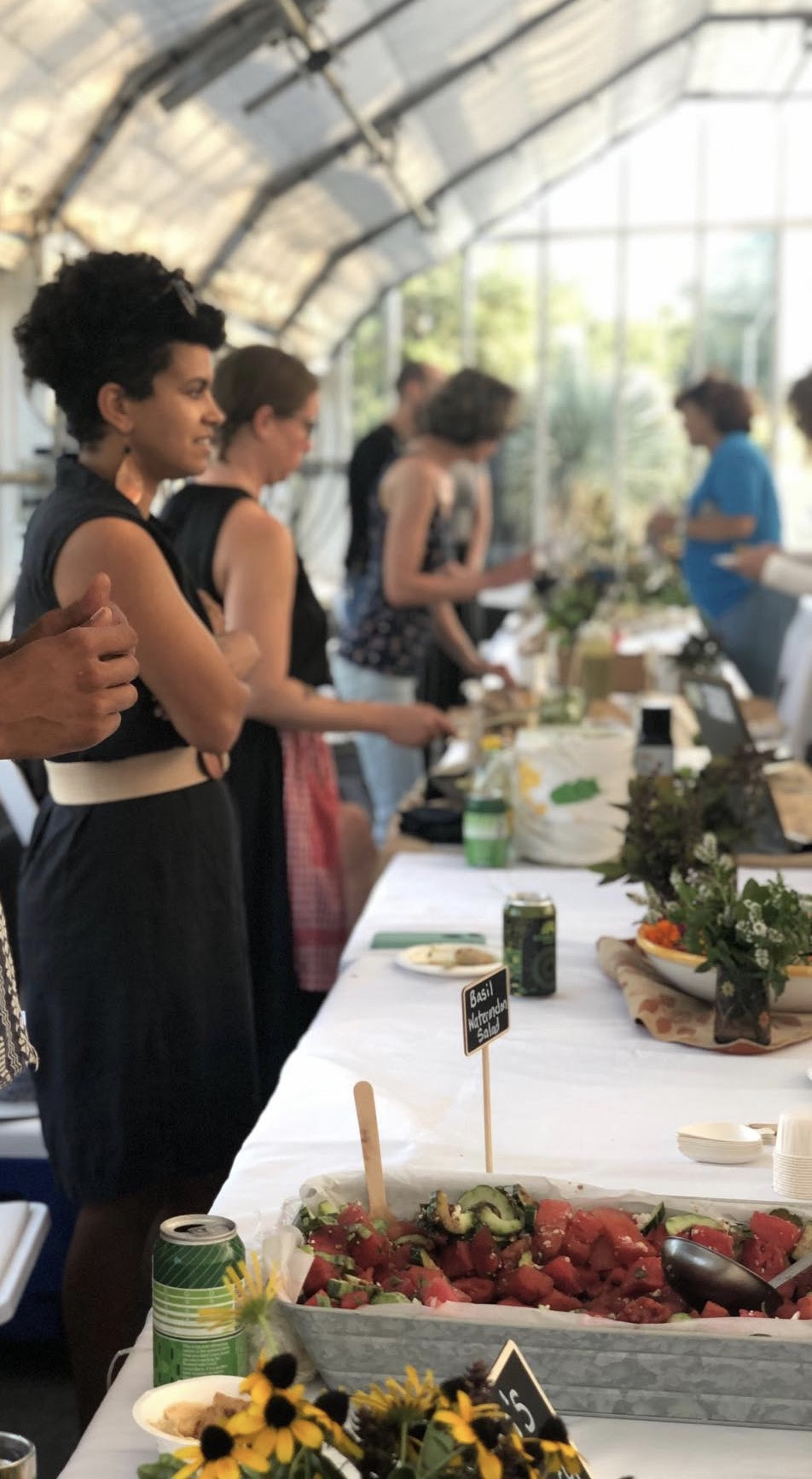 Basil was abundant. There were even more guests than last year. The chefs outdid themselves. Silent auction items were tempting. Blaze's music added to a magical evening at Basilmania in the conservatory at Will Rogers city park.
What a great celebration of the amazingly delicious herb—and in support of local farms and local eateries.
Chefs: Scratch Kitchen & Cocktails Paseo, OKC, Elemental Coffee, Angela Renee Chase, The Red Cup, Kam's Kookery, CousCous Cafe
Silent Auction Donors: Urban Agrarian, Plenty Mercantile, PAMBE Ghana, Learning Tree, Savory Spice, Coffee Slingers Roasters, Jane Wheeler
Drink Sponsors: Big Oak Kombucha, Stonecloud Brewing Company and Elk Valley Brewing Co.
Sponsors: Jane Wheeler, Home Creations, Mckenzie T Shirt Co., JoBeth Hamon, Organics OKC, Britton Seed & Feed.
Thank you to the CommonWealth Basilmania organizing team, chefs, donors, sponsors and guests!—Green Connections and CommonWealth Urban Farms.
Meet our Volunteers: Elizabeth Hadden, Jay Kuykendall
These are a few of the hopes and dreams of Jay Kuykendall and Elizabeth Haddon: Find some land, 
learn to do things themselves (including building a tiny house), learn ins and outs of composting and farming to grow vegetables themselves, travel (the tiny house will be mobile); basically, they say, they want to live a sustainable life.
And so, when Jay learned from the tree expert where he was working that there is a place called CommonWealth Urban Farms, that's where the couple came to volunteer. They spent about 20 minutes in the farm beds before someone asked them to help out in the compost operation. They've been coming every Saturday morning to sort produce and build compost piles ever since.
We've learned how composing works, about microbials, how long it takes, how to layer, how much space is needed," says Jay. "Peter is teaching us about composting at home," says Elizabeth. "And being here is connecting us to community. We had thought there was nothing happening in Oklahoma City. We had no idea. Now we're plugging into a community that holds the same values."
There is an interesting variety of people working in the compost lot, says Jay, "people who are teaching us stuff."
"We've learned that much food is still good that is thrown away," says Elizabeth. "I've learned about edible plants, and bees."
"I've learned that I don't have to work with music playing all the time," says Jay. "I can bond with nature instead."
Jay's paid work is for painting apartments, which he says he enjoys a lot. He traveled a growing up and he likes the idea of randomness, of not being certain about what's coming next.
Elizabeth works for a company that helps people with their insurance companies. Her job could be done remotely.
They are to be married this month. And they are excited about the possibilities in the future. Jay: "We want to do something different; have no debt, no family yet. We want to be sustainable." Elizabeth: "We want to live simply. Be mobile."
They're excited about what they can learn that will help them. Next up: they want to start attending CommonWealth's Garden School classes.
What to Plant this Week? Check out our Beginning Gardener Video Series
How to Grow a Vegetable Garden Even Though You've Never Planted a Seed in Your Life
We designed this video series to help beginners have a successful, productive garden. In small bites each week, we cover how to get started, where to find the stuff you need, what to plant and when to plant it, what to do when you spot a bug, how to water, how to harvest, and what to do with those yummy vegetables you've never eaten before.
This week: Transplanting broccoli and cauliflower seedlings for the fall garden. Check our 
Facebook page
 to view the latest video, or our 
youtube channel 
to see them all.
Fall gardening: transplanting broccoli and cauliflower seedlings.