We Urge You to Vote No on SQ 777
CommonWealth's mission is to build community around growing food together. SQ 777 is the antithesis of our efforts. Written by ALEC to support corporate agriculture and passed by the Oklahoma legislature, this state question would amend the state constitution so that big ag can operate without any limits to its damage to the environment. Too, it prevents municipalities and the state legislature from having a way to stop corporate agriculture's environmental damage or animal injustice, including puppy mills, cock fighting, pig farms, cattle feed lots, etc. It creates a privileged class for corporate ag that is free of any regulation.

Referred to as a constitutional amendment to create "The Right to Farm," this is misleading title. Every person already has the right to engage in farming, just as they have the right to engage in any business.
We encourage you to find out more information at these links:
http://kirkpatrickfoundation.com/assets/docs/777_FAQs_Kirkpatrick_Foundation.pdf
https://www.okfoodfarmfamily.com/
http://www.votenoon777.com/
The Hoop House Grand Opening – It was a Hoop-Hoop-Hooray
of a HOOPAPALOOZA!

The completed hoop house glowed in the autumn sunshine. A warm October breeze kicked up and the cheerful high pitch of a mandolin wafted onto 32nd Street. Clem's and David's folk music set the tone of the day: a happy community gathering of people who care about growing food in the city.
Friends, neighbors, supporters gathered to tour the growing and composting areas of CommonWealth Urban Farms, explore nature on a scavenger hunt, learn about mushroom innoculation, discover what's growing now in our front, back yards and the urban lots, learn more about gardening and composting, share a scrumptious potluck feast and celebrate urban farming.
The Starvation Army Band played as well and Paul Mays, from SixTwelve gave the mushroom demonstration inside the hoop house, the building of which was made possible by a generous donation from The Thunder's Kyle Singler. Already, green sprouts are showing
Heartfelt thanks to Kyle, Paul, the musicians, loyal and dedicated volunteers, sponsors who provided items for the raffle and silent auction; to John Leonard who was the emcee for the hoop house dedication, that culminated in a showering of cover crop seed. Much gratitude too for all our guests and supporters!!!
Year-round food production will now be a whole lot more do-able!
Veggie Spotlight: Spinach!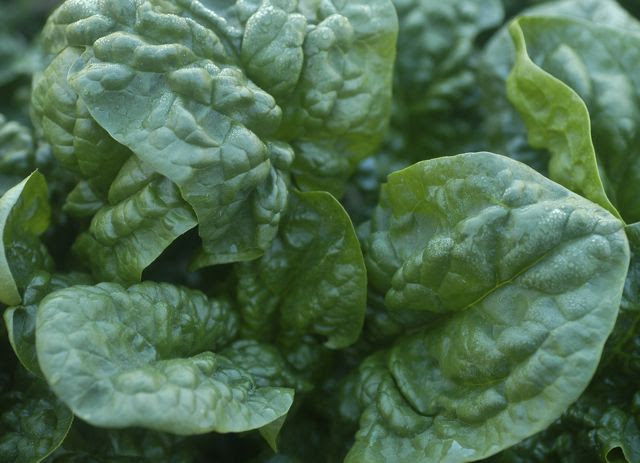 Oh, happy day! Our little spinach plants are finally big enough to begin the fall harvest. Spinach is the most-favored salad green at my house. We also enjoy it lightly cooked with eggs, sautéed and added to pasta, and raw in smoothies. Try it lightly wilted in salads, such as this Spinach Pear Salad. Rich in vitamins and minerals, spinach is also high in phytonutrients that help ward off cancer.
Spinach is in the same chenopod family as chard and beets. There are both smooth-leaf and savoyed varieties. Savoy spinach has dark green, crinkly leaves. Bloomsdale is a well-loved, savoyed-leaf heirloom from the 1880s with great taste. Smooth-leaf spinach has flat, unwrinkled leaves; easier to clean but not always as flavorful.
We plant spinach in late winter for a mid-spring crop, again in early fall for a fall crop, and finally in mid-fall for an overwinter crop that we harvest in early spring. Spinach likes cool weather for growing, and the seeds won't even sprout if the soil is too warm. And warm soil we have, for sure, in early September! I learned a trick from Pam Dawlings in her excellent Sustainable Market Farming book; soak spinach in a jar of water overnight, then drain off the water and refrigerate it for a week. Shake the jar occasionally to distribute the moisture. The seeds will have just barely germinated after a week, and you can then plant them in warm soil and they'll keep growing.
The Environmental Working Group lists spinach as one of the Dirty Dozen of produce high in pesticide contamination, a reminder to know your farmer and know your food!
Spinach Roll-Ups with Lime Chutney
Adapted from Still Life With Menu Cookbook by Mollie Katzen. This is a fabulous appetizer, one of my all-time Top Ten Favorite Recipes. 
½ pound fresh spinach
¼ onion, diced small
½ lime, cut into quarter-inch pieces (include rind, but discard seeds)
1-inch piece of ginger, cut into 1/8-inch slices
2-4 tablespoons shredded unsweetened coconut
3-4 tablespoons whole peanuts
Lime Chutney (see below)
Remove and discard spinach stems. Clean well and spin dry. Wrap snugly in paper towels and refrigerate until use.
Just before serving, arrange spinach leaves on a large platter. Place 1 piece each of onion, lime and ginger on lower center of each leaf. Add a pinch of coconut and 1-2 peanuts. Place chutney in a small bowl, with a small spoon, in center of platter.
To eat, place a delicate mound of chutney on top of the little pile of stuff in the center of the leaf. Roll it up, tucking in the sides and, if possible, pop it into your mouth all at once. You will be amazed at how wonderful this is!
Lime Chutney
1 small lime, seeded and cut into eighths
1 tablespoon coarsely chopped fresh ginger
½ cup chopped onion
1/3 cup packed brown sugar
½ cup peanuts
¼ cup shredded unsweetened coconut
Combine all ingredients in a blender or food processor fitted with the steel blade. Process until it acquires the consistency of a thick sauce (it need not be perfectly smooth.)
Cover and refrigerate until serving time.
If you build it they will come…
In my years of transitioning through many models of food growing, I have come to deeply appreciate the role of pollinators in the garden. In my early years, that meant letting my basil bloom for the bees. In the last several years, it has meant tending to several beehives, a stone's throw from my porch. But what it translated to, was bees. Butterflies were just the darling muses of the pollinator world that graced my garden on a lucky day.
This year I have been gently nudged through many collective efforts, particularly CommonWealth, to plant butterfly food. My original motivation was rooted in pollination, but the result bloomed in mindfulness and connection to my surroundings.
As unconscientiously awkward as it was at first to reconcile the joy of watching a larva destroy a thing that I had planted, it became a daily Easter egg hunt to see what wild things I had managed to mimic a habitat suitable enough for them to partake of and to marvel at their tenuous victories in a world so environmentally uphill.

I am amazed at the diversity of my new winged garden companions. I have come to rely on the Facebook page—
Butterflies of Oklahoma, Kan
sas and Texas
—to teach me the names of things I find, and to show me the ones I had no idea are here.
Recently I discovered that there is a very active set of night butterflies if you check out an active patch at night!—Steph Jordan