Hoop House Build!


Saturday

Number One…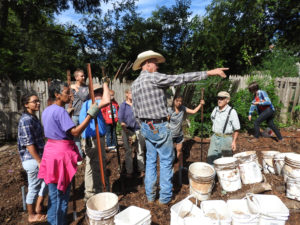 The lovely rain stopped just in time for us to begin constructing our hoop house last Saturday. Holes are dug, leveled & squared, posts are in. Thanks to all our friends who volunteered, carrying buckets of gravel, digging, tamping, cooking and serving lunch for all.
And this Saturday, September 17…
This Saturday we'll assemble and install the hoops and end walls, too. Then sometime in October we'll cover it with plastic and be ready for cold weather growing.
We'll start at 8 a.m. Saturday. If you want to volunteer for a few hours, email us. (info@commonwealthurbanfarms.com) Lunch provided.
Address is 1016 NW 32 (half a block east of Western.) We're able to build this hoop house because of a generous donation from Thunder player, Kyle Singler. Thank you, Kyle!!
And then it will be HOOPaLOOZA!
The Hoop House Grand Opening
Mark your calendar: October 29. Noon to 3 p.m.
Music, food, fun, tours, silent auction, the whole she-bang!
More details to come.
Veggie Spotlight: Arugula! 
Once considered a specialty green with a funny name, arugula is now a mainstay in the salad section and on our farm. Easy to grow, it's also one of our quickest seed-to-harvest greens. Scatter some seeds on the ground and you can start harvesting baby greens a month later. It really is that easy!
Arugula shines in cooler weather. Hot temps make it spicy and bitter, which is not necessarily a bad thing, depending on your palate. Bitter greens, raw or cooked, have their place in the menu. But I admit to preferring the flavor of cool season arugula—smooth, nutty, with just a bit of kick. Fertile soil and plenty of moisture are also keys to a mild-tasting crop. Prepare your soil by working in some compost, then smooth the surface, broadcast seed and lightly cover with a bit more compost. Gently water in. Mulch lightly to keep the soil moist without having to water as much. The seed will germinate in just a few days. You can plant a row of radishes right next to the arugula, and harvest baby greens and radishes a month later for an instant salad.
Arugula is also happy growing in pots; use a Smart Pot or any pot or tub with good drainage. Cut the leaves an inch or so above soil level, and it will re-grow as a cut-and-come-again crop.
Arugula is a stand-out as a raw green, bringing a more full-bodied flavor and texture to salads. But don't forget it as a cooking green, either. It's particularly good with eggs; see our recipe for Rae's Eggs & Arugula as a great way to start the day.—Lia Woods
Rae's Eggs with Arugula
Thanks to our volunteer Rae for this recipe!
Place a frying pan on medium/low heat. Melt butter or oil, then crack two eggs directly into the frying pan (I don't whip them.) Immediately season them to your liking. (We use curry powder, but salt and pepper work just fine).
Dice a handful of arugula. By now your egg whites should be cooked through and this is the time when I scramble them. (I like to taste both the white and the yolk separately, which is why I do not whip them together.)
Add the arugula, toss a bit, and plate your yummy breakfast!
Goes great with toast and cream cheese!!!!
October Garden School
Small Wonders: Microgreens & Shoots
October 8th, 11 am to noon
CommonWealth Urban Farms, 3310 N. Olie
Want to grow highly nutritious, tasty greens in a tiny space? Then microgreens are for you. Lia will demonstrate how to plant and grow pea shoots, plus kale, radish, dill and basil microgreens, and teach us how to avoid common problems. Each participant will have a chance to plant a mini tray of microgreens to take home.
$5 pay on-site (Volunteers get in free)
http://commonwealthurbanfarms.com/garden-school/