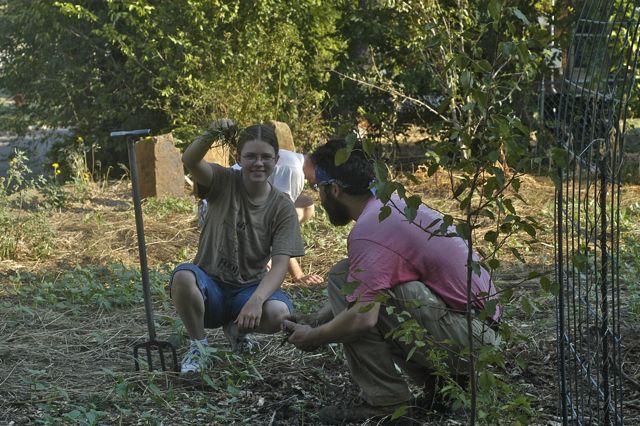 CommonWork is a new weekly workday on Saturdays from 8am-11am. CommonWork is a time for the CommonWealth community and neighbors to get their hands dirty for the preparation and maintenance of the CommonWealth gardens.
We had a blast working on the Ollie lot this week. Lia, Hannah, and Clem spent most of the time weeding and replanting in open spaces where the cover crop (Cowpeas) didn't germinate.
The other project was maintenance of our ever expanding compost pile. David and Terry processed 4 barrels (1,400 lbs.) of spent beer grains (kindly donated by the folks at Coop Ale Works) and layered them with wood chips. We also watered the compost pile for the first time this summer.
It may sound ridiculous to water a pile of waste, but water is an essential ingredient in the composting process. For the little microbes in the pile to work at maximum efficiency any compost pile needs the proper mixture of green (Nitrogen) and brown (Carbon) matter and water. If there's no water, the microbes die out and the decomposition process grinds to a halt.
We all had a great time. Hope to see you there next week!