No!  We sure don't!
Our volunteers have been out in the bad weather and the good getting ready for the spring.  Besides doing a lot of maintenance, cleaning and organizing – we have rows of garlic and other cold weather veggies growing and our composting is going strong.
A few weeks ago some of our volunteers learned about making soil blocks to start some of our seeds in.  No more need for all those disposable plastic trays!  This makes our budget and the environment a little bit happier.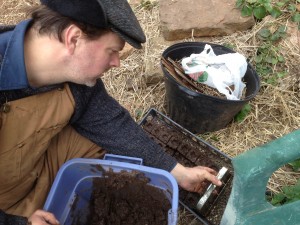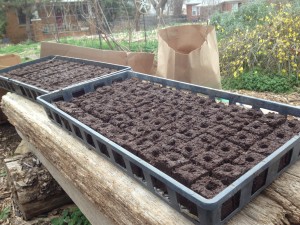 A fantastic team of youth volunteers dug in and turned over our newest lot, all by shovel, sweat and muscle.  We're very impressed, and extremely grateful!  Now this space is ready for our newest exciting project – bioremediation.  We'll be using mushrooms to reduce the soil's lead content so that's we can be sure it's 100% safe for growing food.  Is your interest piqued?  I hope so!  More to come on that in the next month or two – or better yet, to learn more, come get involved!  We look forward to seeing you!