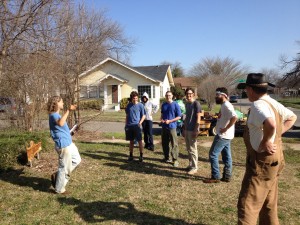 Our first mini workshop on Saturday was great!  We had a good group turn up to talk about planting fruit trees and we got some pears and persimmons into the ground.
If you missed out, don't worry, we have more workshops coming up.  Mini workshops are on Saturday mornings from about 9:30-10, with a chance for hands on experience for those who want to stick around.
Our upcoming topics are:
Sat. April 6 – How to plant tomatoes; how to prepare the bed, selecting varieties, different methods of staking/caging, dealing with pests and diseases. A free tomato seedling to first ten participants. Additional seedlings will be for sale.
Sat. April 13 – OU Big Event volunteer day (No workshop)
Sat. April 20 – Flowers for Bouquets: what to plant to keep your vases filled all summer long. (Followed by our Earth Day celebration.)
Sat. April 27 – Composting with worms
Mini workshops are held at our Olie Avenue lot, one block east of Western between NW 32nd and Hill Streets.
For more information, or requests for future workshop topics, you can contact us at 405-524-1864 or info@commonwealthurbanfarms.com.