Garden School 2017!
At CommonWealth, we are passionate about sharing our knowledge of gardening, and growing community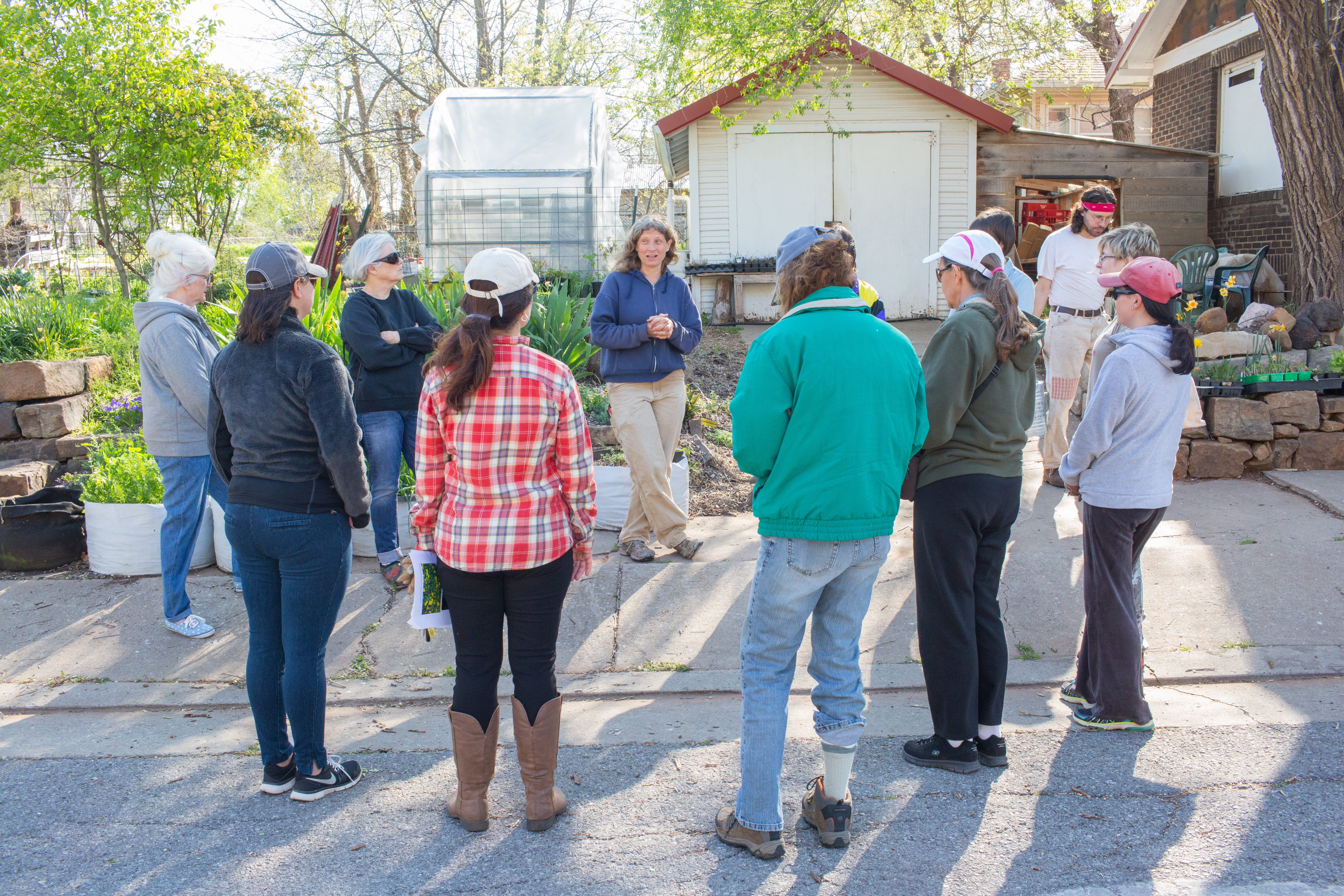 . Learning how to grow our own food empowers us to make healthier food choices, save money, and protect the environment. Plus, (and this is a huge plus!) gardening has a way of turning strangers into neighbors.
We're looking forward to an exciting year of connecting with friends and exploring together our amazing world of gardening.—Jody Lesch, Garden School coordinator
Classes are on Saturdays from 11 am to noon, at CommonWealth, 3310 N. Olie. They are family-friendly, often featuring a related children's activity. Cost is $5 per person, payable on-site. Or, buy a season membership to Garden School for just $50, and save 37%! To read details on each class or subscribe, click here: Garden School subscription.
March 18: Plant a Food Forest
March 25: How To Grow A Vegetable Garden on Your Patio Even Though You've Never Planted a Seed in Your Life
April 8: Flowers, Flowers Everywhere!
April 15: The New Victory Garden
May 13: Bugs in My Garden: Planting for Pollinators
May 20: Soil Testing & Growing Nutrient-Dense Food
June 10: Wild About Birds
June 24: Herb Gardening for Beginners
July 8: Composting & Vermicomposting
July 29: Microgreens & Shoots: Grow a mini garden on your Windowsill
August 12: Three Cheers for Lactic Acid Bacteria!
August 26: Plan & Plant Your Fall Garden
Sept. 9: Backyard Hens
Sept. 23: The New Victory Gardens Tour
Oct: 7: Butterfly Watch and Monarch Tagging
October 21: TBD
Veggie Spotlight: We Have Babies!
Baby seedlings, that is – and LOTS of them.
Pictured here are 3-week-old spinach seedlings in our hoop house.
Before a seed even germinates, the root, stem and cotyledon leaves begin to form. Yes! Inside that little bitty seed, all that is already going on. When a seed germinates, it's not yet able to photosynthesize, so it gets its food and nutrition from the cotyledon. In this photo, you can see the long skinny cotyledon leaves; some of them still have the seed hull attached. The next leaves are called "true leaves;" they look like miniature versions of what spinach (or tomato or squash) leaves look like when mature. Once the true leaves form, the plant can actively photosynthesize.
We've also started veggie and flower seedl
ings in plug trays. The photo shows some of our 40 flats of snapdragon, false queen anne's lace, lisianthus, and other flower seedlings that are hardening off under a low tunnel; we'll transplant them outside in March. It's not too early to seed kale, spinach, lettuce, arugula, carrots & beets outside, as long as you have some row cover to give them protection on freezing nights.—Elia Woods

What the Heck are All These People Doing?

Why, preparing the area to plant a food forest, of course! And what is a food forest? A food forest is a low-maintenance, sustainable and productive garden of fruit and nut trees, shrubs, berries, herbs, mushrooms and perennial vegetables, based on the natural systems found in forests. Forest gardens are probably the world's oldest form of land use and amongst the most resilient of agroecosystems.
What you don't see in this photo is all the brush, debris and stumps that have already been removed over several workdays with the help of dozens of volunteers. Previously, we spent six months covering the yard with windrows made of Whole Foods compost and wood chips, then let it quietly sit and rot for a year. We're now leveling those windrows, creating a foot-thick layer of finished compost over the whole yard.
Ready for planting! Our first Garden School will be our Food Forest workshop on Saturday, March 18, from 10 to noon. After an introduction to the concept of forest gardening, we'll begin planting it together. More details here and in our next newsletter.—Elia Woods
Yay! Thanks for the grant, Tater Tats!
Tater Tats
is a home-grown business that sells temporary tatoos of veggies: "upper-arm eggplants, cheeky tomatoes, and sleeves of carrots." Ten percent of their sales go to help fund farm projects. CommonWealth recently received a Tater Tat grant for a hoop house irrigation system.
Announcing the awarding of the grant to CommonWealth, the Tater Tat folks posted on Instagram: "(CommonWealth Urban Farm) is beautiful and incredibly productive. They have been hand watering so far and needed to buy supplies to install a drip irrigation system. We were pumped to help with the project!"
Thank you Tater Tats!