Garden School:
Plant your own Pollinator Garden
Saturday, March 17
11 am to noon
3310 N. Olie
Fee is $10 per person, $15 per couple, or free if you volunteer with us. (Pay on site.)
We'll tour CommonWealth's own pollinator garden where Jody Lesch, our resident "Bug Lady," introduces participants to the native plants providing food and habitat for the bees, beetles and butterflies that pollinate and beautify our world. We'll provide seeds, soil, containers and coaching for each person to start some seedlings of their own to take and plant at home.
Instructor: Jody Lesch, Garden School coordinator and resident "Bug Lady"
February at the Farm
Spring IS around the corner, regardless of what the weather has been this last week! And we're getting ready. Shown here are 30 of the 100+ flats of seedlings in our nursery. These kale, lettuce and flower seedlings are under low hoops, covered with plastic or a frost blanket on chilly nights. The rest are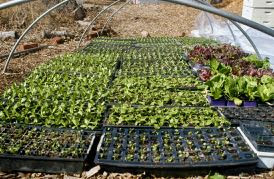 tucked away in borrowed greenhouse space. When it's cold and icy outside, there is something deeply comforting about tending to our jillions of little green babies, just waiting for a sunny spring day when we can slip them into the warm, dark soil that is their future home.
Starting in late winter, we succession-plant leafy greens and root crops, to lengthen the harvest period. This photo shows the very first leaves of spinach seedlings appearing above the ground, from seed planted outside three weeks ago. We'll harvest spinach from this bed in April, about the time the fall-planted spinach in the hoop house calls it quits. This week, we'll plant onion seedlings and potatoes, and then it's fling-the-doors-open on planting season!—Lia
2018 CommonWealth Apprenticeships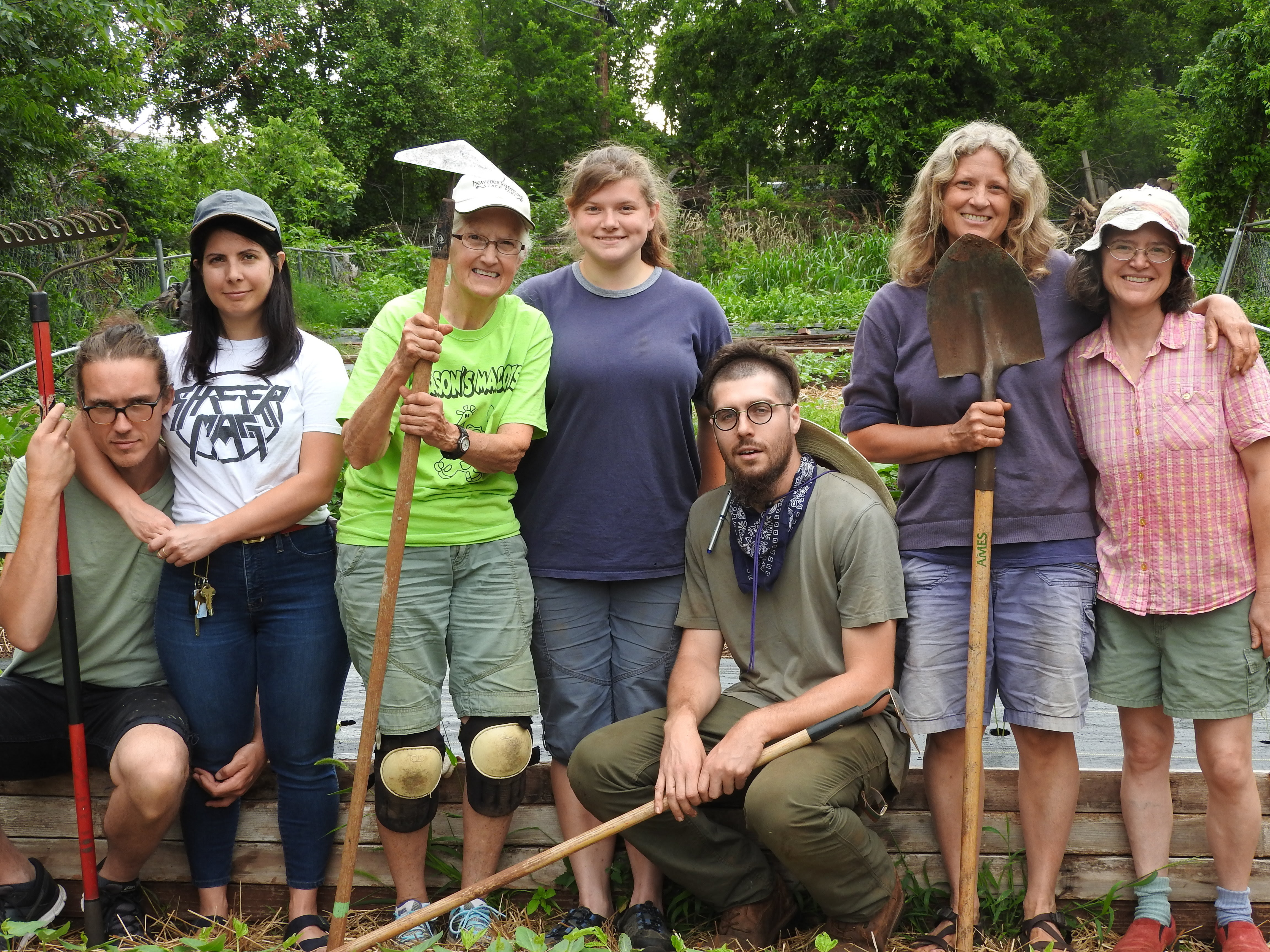 Do you want to be an urban farmer?
Are you a horticulture student looking for practical, hands-on learning? Or a home gardener ready to step up to the next level?
We're now accepting applications for spring 2018 apprentices! We had a very successful first year in 2017 with some stellar apprentices. We've made a few changes and look forward to an even stronger program this year. Click here for more information on this hand-on learning experience. The spring program begins March 2nd. Applications are due by Feb. 25th.
Team Spotlight: LaNita Austin
LaNita Austin's grandparents—both sets—were farmers, in Alabama and Arkansas. Her grandmother in Arkansas grew flowers and vegetables all around her yard and also went weekly to the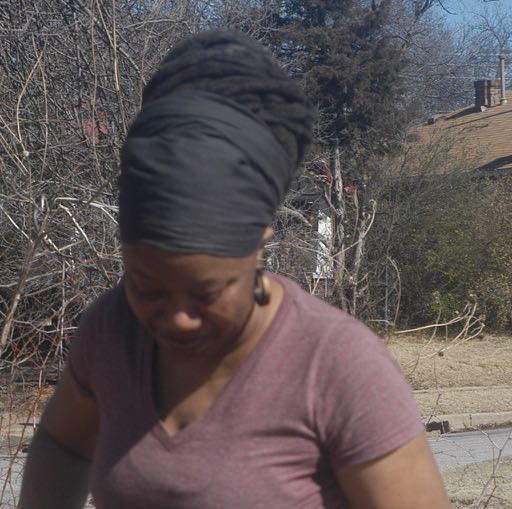 community garden next to the library in her town, to work alongside friends and neighbors. As a young girl, LaNita went with her to work in the garden. She would ask her grandmother why she worked in the community garden since she already had lots of vegetables at home.
It wasn't just about the vegetables; working in the community garden, LaNita says, "was a social thing, a community thing" for her grandmother.
So when LaNIta moved from New Orleans back to Oklahoma in 1999 and heard about "the organic district," she searched out the gardens on 32nd Street and Lia and Allen. Since then, she's worked as part of the community that has evolved into CommonWealth Urban Farms.
"There's so much to learn," she says. In fact, she is applying for the third class of apprentices at CommonWealth. "Lia has a wealth of knowledge and I want to understand from her and others how they do what they do."
Perhaps LaNita has found at CommonWealth what her grandmother found in her food-growing community in Arkansas.
"CommonWealth is like family. It's like an outdoor community center. It's about growth and development, stewardship. And growing food is therapeutic."—Pat
Of a Certain Nature…
On the tiny dab of soil in my front yard next to the fire hydrant at 32nd and Olie, my neighbor Stephanie planted a small but tall pollinator garden last summer. Even in that tiny space she left a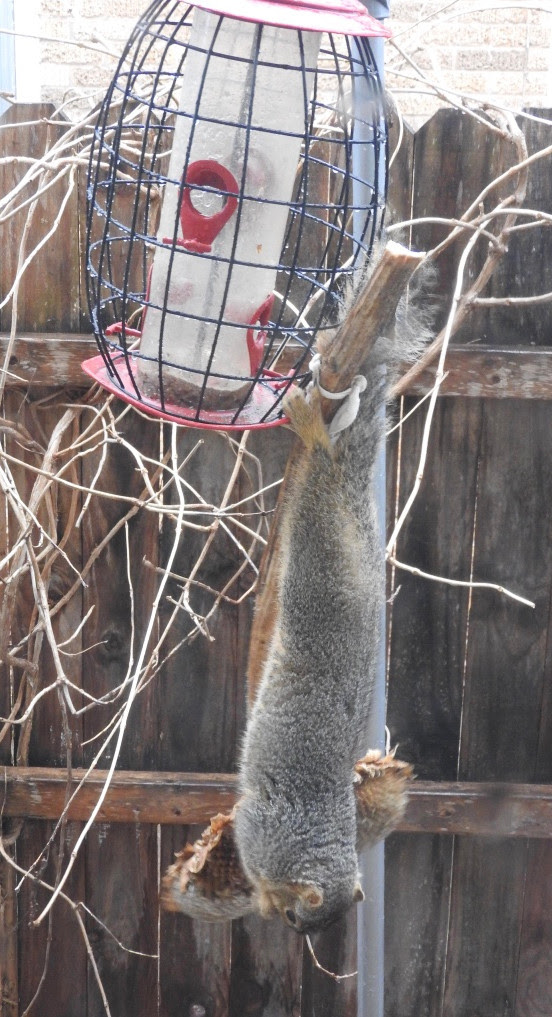 little path for city workers to get to the fire hydrant. And still there was room for milkweed and sunflowers, that grew seven-foot tall, and produced giant-headed pods. As fall came, she sawed off their heads and hung them upside down in her greenhouse. On Valentine's Day she brought four of them to my door, "for the birds."
We both feed and water the birds. And on our lush block, there are a glorious variety and number of birds. I water them in the front yard, and feed them in the side yard, where I can watch them through my living room window—and, watch the squirrels. I've given up trying to protect birdseed from the squirrels. But I wanted the birds to get at least some of the sunflower seeds in these beautiful dried pods.
I set one pod on the ground out front near their water dishes, hoping the birds would find it first. But a squirrel, guzzling water out of a saucer on the front porch, spotted the pod and made quick work of emptying it of seeds.
I hung the next one in the side yard, where I thought the squirrel might not reach. But I don't think there's anyplace a squirrel can't reach. And when I saw it stretched full out munching away, well, that was that. Except! It can't reach the bottom-most seeds in the pod. Unfortunately, neither can the birds; they need someplace to stand and get to the seeds.
So, I'm trying to figure out how to help the birds get a taste. I have two more pods to share.—Pat