"Beginning right now, each of us can choose to lead a materially simpler life, to conserve rather than consume, to own fewer things and give away what we don't need; we can undertake fewer activities, and those we do undertake we can pursue with more care and delight. We can move around less, and pay closer attention to our home ground. We can draw more of our food and other necessities from local source…we can revel in nature and community."
—Scott Russell Sanders
Garden School: What Fun!Bouquets From the Garden

Saturday, August 25

11 a.m. to noon
3310 N. Olie
Get ready for some serious beauty and fun! Lauren Palmer of The Wild Mother will demonstrate how to create an alluring arrangement from flowers grown at CommonWealth's farm. Lauren is the creative genius behind the gorgeous, naturalistic arrangements that define The Wild Mother style.
Fall flower seedlings will be available for sale.
$10 per class; $15 per couple/pair; free to volunteers. See full schedule and season rates HERE.
Coming Up Next:
Saturday, September 8: Plant a Fall Salad Garden
11 am to noon
Lettuce & carrots & kale, oh my! Fall is a wonderful time to garden in Oklahoma. Vegetables and gardeners alike love the cooler weather, and we (usually!) get rain. Knowing what and when to plant is critical to success. We'll focus on greens and roots that grow well at this time of year in Oklahoma and will provide you with delicious salads all through the fall.
Fall vegetable seedlings will be available for sale.
Instructor: Elia Woods, co-founder and farm manager of CommonWealth
It's High CSA/Veggie Club Season
What an August we're having! The farm is producing lovely vegetables and so it's a joy for all every Saturday morning as members come pickup their veggies! If you want to be put on our waiting list for next year's Veggie Club season, email pathoerth@gmail.com.
Volunteer Spotlight: Peter Rosier

When Peter Rosier returned to Oklahoma City from living in Alaska, his best friend from college invited him to come volunteer with him at CommonWealth. That was in October of 2016. "My friend has moved on," says Peter. "I can't leave. I'm stuck here."
Peter, who lives nearby, volunteers in the composting operation. That means he is part of a Saturdaymorning team that sorts food waste from Whole Foods, piles it in windrows and adds wood chips, runs it through screens and carries buckets filled with it to the farm to be used on the beds.
"You can see quickly why composting is so important," he says. "It helps you put food waste in this country in perspective. One in four children will have no meal today. There's a lot to learn here.
"We get the waste produce in a trailer on Saturday morning. It takes three to four people working the good part of a morning to process that garbage. We do in one daymore composting than I can do at home in a year."
Peter's dad gardened on their land near Edmond when he was growing up. After studying chemical engineering at OU, Peter went to work in Alaska for an oil company. "Alaska is the most beautiful place in the world," he says. "And the people are great."
But, after three years, he returned to his home state and works for a small company. "Composting at CommonWealth has changed my life," he says. A renter, nevertheless, he is composting and growing food at home. It hasn't been easy. "I built a cold frame and started seeds last year, but it was too early. I have constant failure. It's discouraging but I can't stop trying."
Peter's dedication to growing food and growing it organically—always fraught with challenge—is inspiring. No less inspiring is his dedication to composting at CommonWealth. Every Saturday morning he comes to "sort garbage." "There's more to it than sorting food waste," says Peter. "I come out of necessity. This is a good group of people. Seldom do you find projects that are good through and through. There is nothing bad about this project."—Pat
Testimonial: Volunteers Shout Out!
Jody Lesch's curiosity and hunger for learning are a great contribution to the time we spend together at CommonWealth. Too, her hospitality with visitors and her eagerness to help them observe and learn about pollinators is a great gift for life here. 
"My name is Jody Lesch aka "the bug lady" and I have been a volunteer at CommonWealth for about four years, spending most Saturday mornings at this delightful oasis in the middle of the city.  It is a blessing to be a part of a community of people who share my passion of growing healthy food and protecting all of God's creatures with whom we share this world. Allen and Lia have a wealth of knowledge they freely share and I learn so much, have so much fun and I hope I never have to give up the time I get to spend here."
                              
---
We enjoy Jenna Moore's sweet spirit and energetic enthusiasm for the work of CommonWealth Urban Farm. We appreciate greatly her contributions on the
marketing team, helping with creative ideas for marketing our flowers and vegetables; developing educational programs and fundraising projects.
"My name is Jenna Moore and I've
 been volunteering with CommonWealth for around 2 years now.  I continue to volunteer for a multitude of reasons, mainly because I feel that CommonWealth is a step in the right direction of where the world needs to be heading.  It is a place where community is created through the growing and sharing of nutritious food, in a way that promotes local economy and improves the environment.
It is rare for me to find a place that houses all of my passions under one "roof."  It is also always encouraging to see how touched people are when they first experience CommonWealth, and how their interests continue to be piqued the more they learn about it.  There is such a wealth of knowledge at CommonWealth that is ripe for the sharing with the rest of the city.  It has been fun for me to help try to disseminate that knowledge in whatever way that I can!"
Of a Certain Nature…Sightings & Sounds at CommonWealth
Friends drop by the CommonWealth Urban Farm community off and on for a few moments of quiet and to breathe in nature. Volunteers tell us how lovely it is to enjoy nature as they work on the farm. They tell us we should celebrate the beauty and wonder of this place.  And so, we are!
Oh my gosh…CommonWealth 
is a virtual pollinator nursery these days, a witness to this adage: "Plant them and they will come"—pollinating plants, that is.
Check any Milkweed, Rue, Fennel, Parsley plant growing on the farm or our front yards and there are eggs, tiny or growing caterpillars. And the Monarchs, Queens, Emperors and Pipevines floating around are laying more! (In the photo below, Jody is showing a tiny caterpillar to our young CSA volunteer.)
We had brought a potted Ru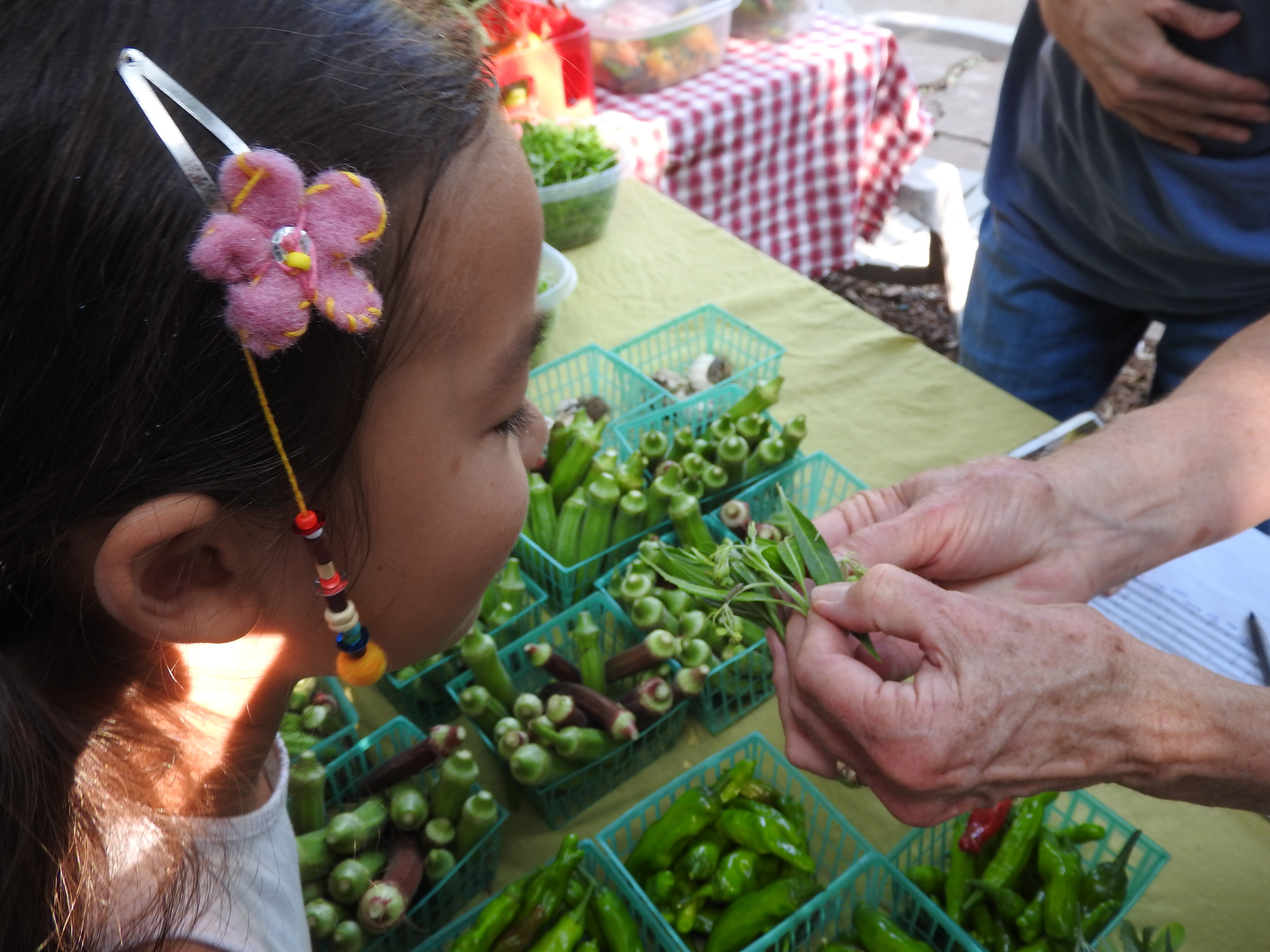 e in the house so that four Swallowtail caterpillars might make it through their transition. Now that they are chrysalises, I thought I didn't have to watch their food supply anymore—only to discover that there are two new caterpillars from unseen eggs. I brought in more Rue for them—and discovered two more tiny caterpillars on it! Tis the season!—Pat