Buzz and Flutter In the Pollinator Garden
What's all that buzzing and fluttering?! If you haven't seen our Pollinator Garden for a while, you're in for a treat. Olivia's garden is flourishing with all kinds of amazing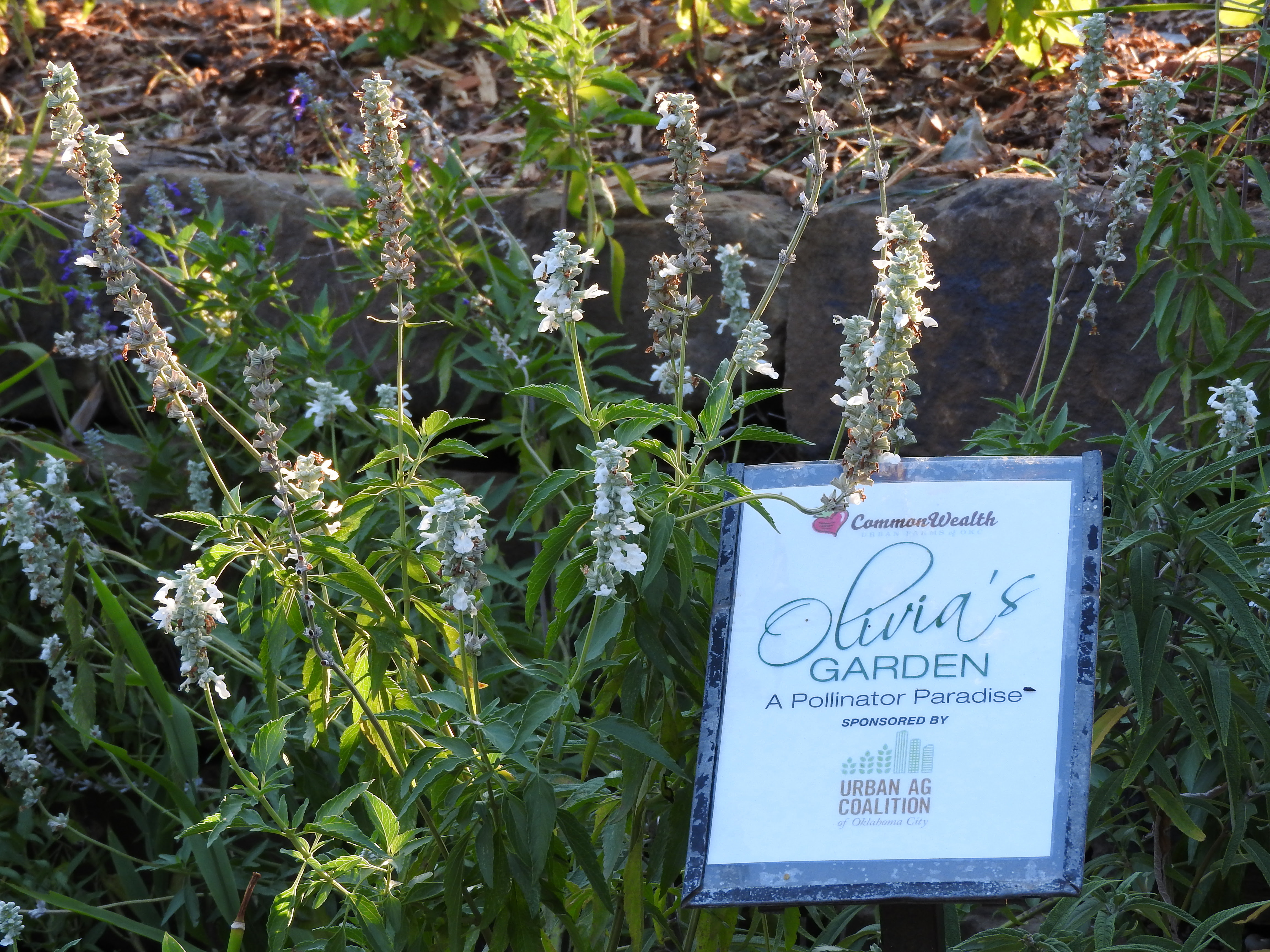 creatures…bees, butterflies, and look closely to spot a caterpillar silently munching on a leaf or a beetle looking for a safe place to lay her eggs. Did you know that butterflies taste with their feet and that bees carry pollen on their legs?  Come and take a tour of the garden with Jody to learn more interesting facts about these wonders of nature.
Too, we would love to show you how you can grow your own poll
inator garden and create a habitat for pollinators. No room for a garden? Let us share ours with you! We welcome volunteers' help. It's a lovely place to be on Saturdays! Visit us from 9 to noon.
CommonWealth's Pollinator Garden is on Urban Ag OKC's Butterfly Tour
Sunday, September 25
10 a.m. to 3 p.m.Explore eight diverse gardens and landscapes during
this free, self-guided tour around central-northwest Oklahoma City. From the modern
formal to the xeric perennial border to the rustic urban homestead, there will be something for everyone to enjoy.
Get inspired to attract these beautiful creatures to your own garden, plus ask plant questions of local experts and purchase native and prairie garden perennials from local growers!
Addresses and details for tour sites will be posted at http://www.urbanagokc.orgby mid-September.
Veggie Spotlight: Purslane
In the category of off-the-beaten-path, we have Purslane. Lia says every August she falls in love with it all over again. "A succulent,
mild-tasting green that grows happy as a clam, right when our weather gets super hot and dry. Impressive!"
It's a bit crunchy with a light lemony taste. Called Verdolaga in Spanish, it's extremely nutritious; especially as an excellent source of omega-3 fatty acids. Michael Pollan calls it one of the two most nutritious foods on the planet. It's also drought tolerant, grows like a weed (is often considered a weed) and the stem, leaf and tiny flowers are all edible. Lia usually eats it raw, in salad, but it can also be cooked, used in pesto, etc.
Volunteer JoBeth Hamon offers this recipe:
Purslane Salad
1 small onion, chopped. Soak in salt water.
2 cups purslane, washed; leaves cut in half.
1 large tomato, chopped.
Mix purslane and tomato. Drain onion and add.
1 tablespoon oil
2 teaspoons vinegar
Add salt to taste.
Of  Tomatoes, and Birds!

You just never know what the farming adventure will be on any given year. This year, just as the tomato crop came on, so did the birds! Don't know which ones or why, for the first year ever, they became so interested in eating tomatoes. But they sure did. 80 percent of the crop had peck marks, or holes! Then Stephanie Jordan told us about hanging CD's in the tomato cages, which we did. That cut the damage by about 50 percent. Then Lia discovered red and silver bird reflector tape (evidently, this problem is more common than we knew.) We twirled it through the tops of the cages, and the garden is aglow with shiny light. There is zero damage now! Tomatoes are safe, and beautiful, and luscious. 
Garden School in August
In the Garden, 3310 N. Olie
$5 pay on-site (No fee for volunteers)
Plan and Plant Your Fall Garden—Start Now!
August 13—11 a.m. to noon
Timing is everything with the fall garden! Plant too early and the crops fail due to heat. Plant too late and they won't be ready to harvest before the first freeze. Some vegetables are cold hardy and can be planted later in fall for a winter harvest. Lia will share her fall planting calendar along with tips for veggies best suited for fall gardening.
Tool Sharpening
August 27—11 am to noon
Toby Sarge will demonstrate how to sharpen garden tools and how to make small repairs. Participants are encouraged to bring their garden tools for hands-on learning while sharpening their own tools!
Slow Flowers…with a Bright Impact
Sunflowers and zinnias and marigolds, oh my! Our cut flower garden is in full swing, and we are awash in color. Zinnias take center stage in
summer. We grow
Benary's Giant
, a particularly fine variety with tall, sturdy stems and vivid, almost neon blooms. Our
Giant Series 
Marigolds are, indeed, big & tall & blazing orange; if you want BRIGHT, we've got you covered.
Sunflowers are a happy happy flower, like a big smile wrapped up inside a package of yellow. From what I've observed, a vase of sunflowers just draws a smile right out of everyone. We like to mix all those bright colors with the cool greens and purples of Thai basil, for bouquets with just the right amount of splash and calm, and a sweet scent as well.
I have learned that succession planting in flowers is just as important as with vegetables. Plant a row of zinnias in April and it's probably petering out by now, and likely getting powdery mildew as well. But plant another row of zinnias in June, and it will be in full glory in August; you can take out the over-the-hill row while feasting your eyes on the late-planted row. We now plant zinnias, and several other flowers, from April thru late July, for the longest window of enjoyment.
And now for a bit of shameless self-promotion…
Need a birthday gift? You can
purchase
a beautiful, local-flower bouquet from us for just $15-$25, Mason jar vase included. Special event on a budget? Email us to purchase a bulk bucket of flowers for DIY arrangements. Can't get enough of them? We have a weekly bouquet
subscription service a
vailable, and it's not too late to join.
Look What's Coming Up in the Bioremediation Lot!
An on-going project is the bioremediation of a lot in CommonWealth Urban Farms where lead still permeates the soil. Sunflowers draw lead out of the soil through their roots, so agai
n this year, we went to work preparing the ground—some wood chip-enriched, some red clay—for a planting of sunflowers. One overcast morning recently, a team hoed and raked and yanked up Bermuda grass, then worked up rows. Lia brought several varieties of sunflowers—including Firecracker, Soraya, Santa Lucia—with different maturation times so that there will be sunflowers popping up into autumn. Miracle of miracles, it rained the morning after the seeding! And then it rained again. In July!


And now there are baby sunflowers.
Thanks to Hannah Braden for managing this project!