2020! The Year of All-Things-Garden

Even with all that has happened, 2020 has been a productive and fertile time for us. A bit more stress than usual, for sure! Like everybody, we've had to make some quick turns to adjust to new circumstances, but we have managed to carry on and actually completed new projects.
One of the exciting turn-of-events is that people became interested in all-things-garden, returning to or learning for the first time how to grow some of their own food. We are glad to help in that process!
New Rain Garden and Expanded Pollinator Habitat
Andrew, our pollinator intern this spring, helped dig a rain garden in front of our flower lot, and we filled it with native pollinator plants. The basins in the rain garden slow down and catch run-off from the streets, roofs and yards, so that it can slowly soak into the ground. As the plants in our rain garden mature, they will help filter contaminates in the water, so that the excess water that does pass through the rain garden is cleaner by the time it reaches the storm sewers and eventually our creeks and rivers.
Brand-new botanical signage gives passers-by an introduction to the benefits of native plants and rain gardens, and how a rain garden actually works, as well as individual plant identification.
We also added several new strips of pollinator plants around the edges of the farm.
Thanks go out to all the volunteers who helped with this project, and to the Oklahoma County Conservation District & NRCS for funding it!
Compost as a Heat Source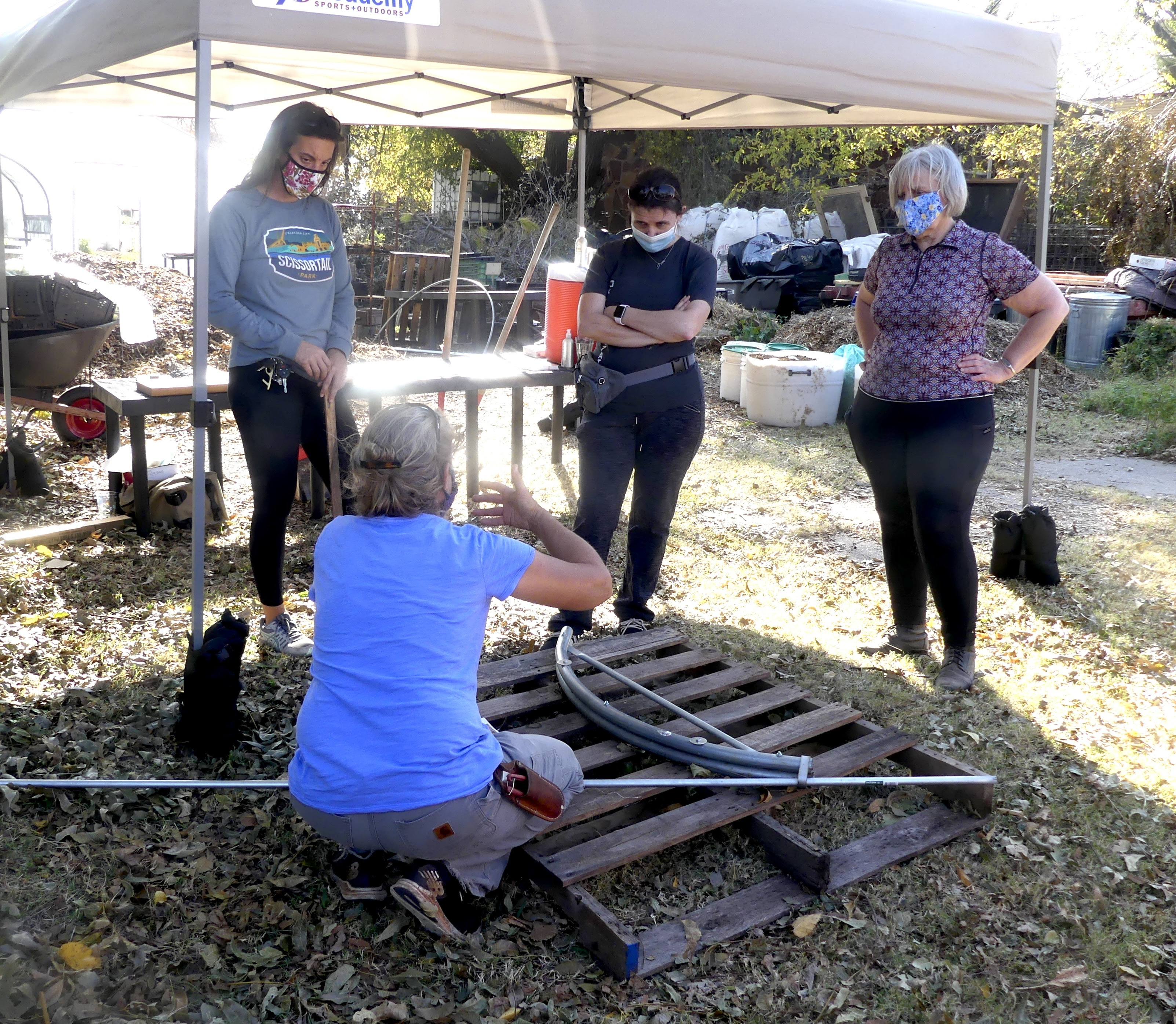 Many of us have built compost piles as a way to make valuable "gardeners' gold" to add fertility to our gardens. But did you know that compost piles also create heat as the materials decompose, and that you can "harvest" that heat to extend your growing season? We use compost to heat our greenhouse, as well as to create "hot beds" under low tunnels to keep our seedlings warm in early spring.
This is an old, well-proven method—we didn't invent it!—that fell into disuse as we became more dependent on fossil fuels. But it's a simple, ecological and inexpensive technique worth reviving.
Thanks to a USDA grant through the Oklahoma Department of Agriculture, Food & Forestry, we were able to offer two workshops on this method earlier this fall and will offer two more in the spring. Plus we're working on a professional video and written guide to be available online for free.
Garden Schools & Saturday Volunteer Events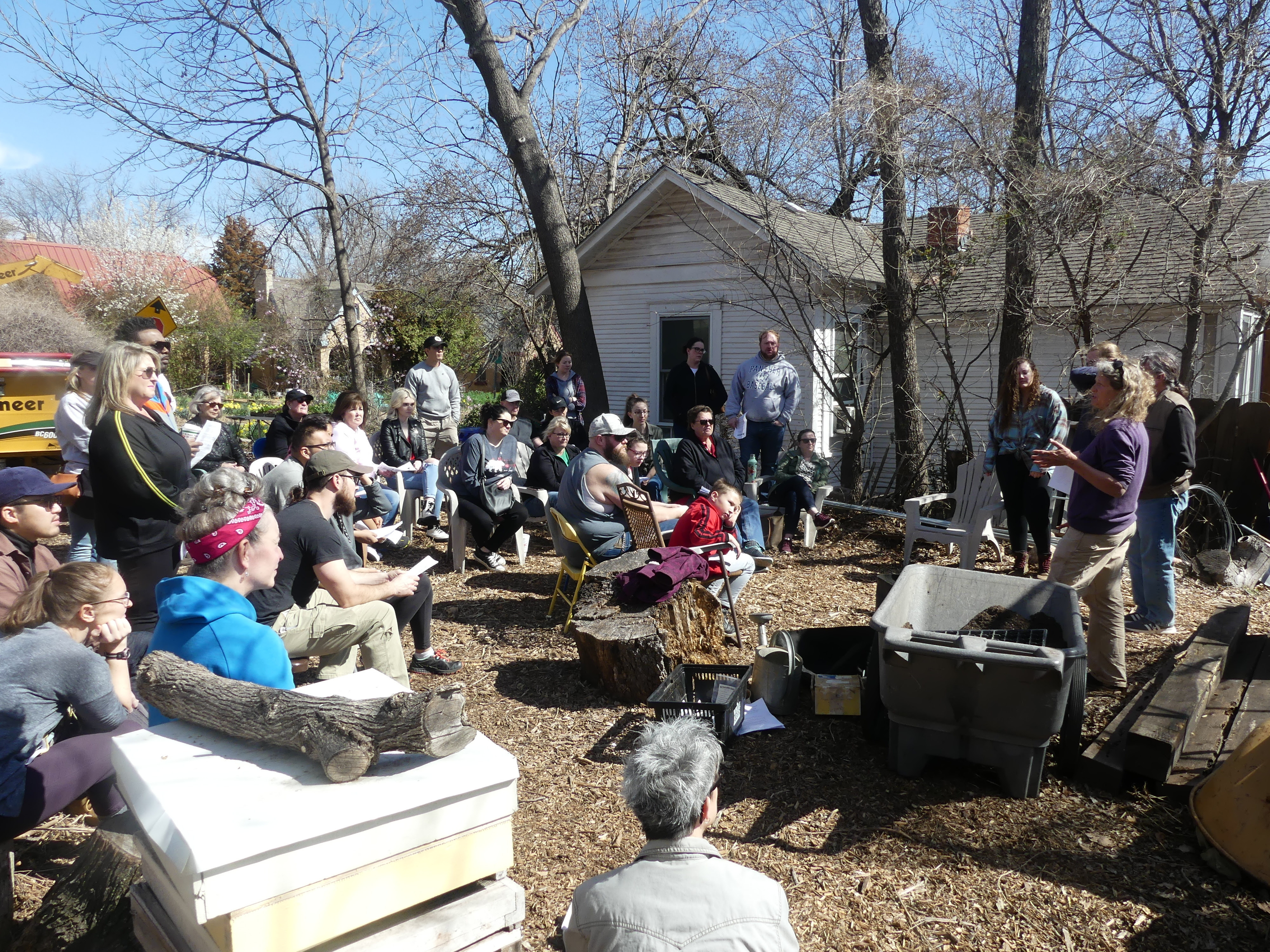 We started the spring with more people than ever attending our Garden School classes and Saturday morning volunteer events. Then the pandemic hit! We filled in with online videos and FB Live events (not the same—I know!) and by late summer were able to offer classes again outside and socially distanced.
We sure do miss the big, social, everybody-working-together times, and we miss seeing so many of YOU! Sooner or later, it will be safe for us to all be together again. In the meantime, we're putting together a tantalizing slate of Garden School classes for 2021—more on that soon 
Special thanks to our core group of dedicated volunteers who keep showing up, and attending to the essentials.
CommonWealth as an Incubator Farm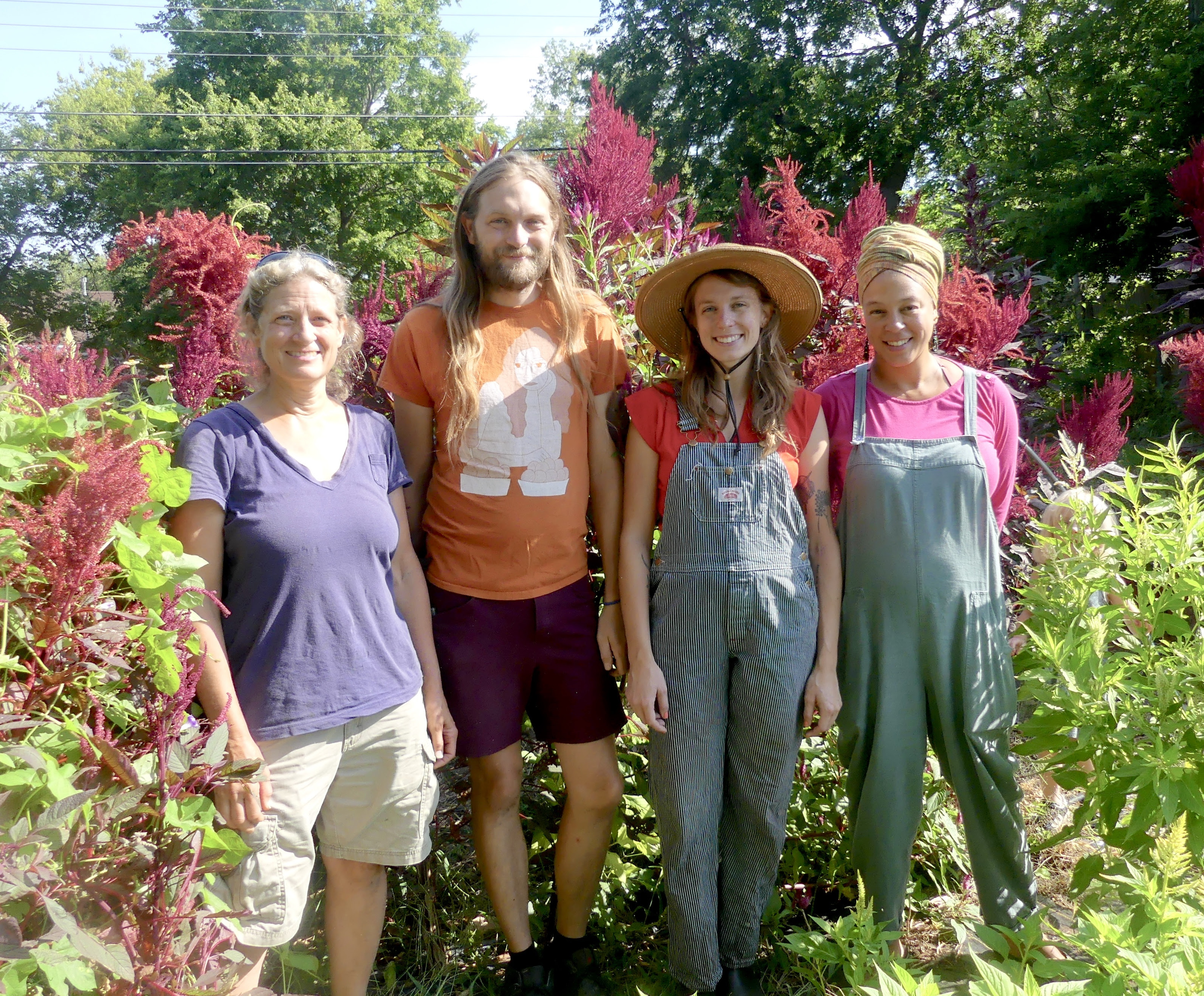 This was our first year to try out a new model as an incubator farm. CommonWealth provided land and infrastructure to four partner-farmers to develop their own enterprises growing and selling vegetables, flowers and herbs. (In photo, from left: Lia Woods, Jacob Sanders, Megan Sanders, Tesa Linville.)
Tesa grew cut flowers and edibles: "The knowledge and the resources that CW has to offer have been wonderful. I don't think I would have had the confidence or the drive to have done it otherwise. I will be at CW next year and I can't wait."
Megan grew cut flowers: "What was most h
elpful about being a CW partner-farmer? Land access! And, I've learned some things for next year."
Jacob grew vegetables: "Most helpful at CommonWealth was land access that was already a farm. Also, sharing materials was great! I will take with me the fellowship and a better understanding of my limitations, and how to overcome them."
Lia grew seedlings and vegetables: "I was delighted to see how much entrepreneurial energy and creativity arose from each of us partner-farmers being completely in charge of our own operations. And I loved being able to talk shop and glean new ideas from my co-farmers."
We have five partner-farmers lined up for 2021; we'll introduce them to you in the January newsletter!
From our co-founder, Lia


Ten years ago this month, a small group of us met with the seed of an idea that eventually sprouted into CommonWealth. Ten years! I thought we had big ideas then, but what grew from that seed is far more than I ever dreamed.
Fields of vegetables and flowers, migrating monarchs congregating on a patch of zinnias, classes on native bees or growing mushrooms, compost piles filled with red wriggler worms and tended by proud volunteers – none of that existed here when we began. We find stray people walking down the block, saying "I had no idea this was happening in my city!"


Ten years ago, I was a looking for a few good people with whom I could start a teaching farm. Today, I am surrounded by an astonishing, diverse, eccentric community of people who are passionately dedicated to growing and learning and renewing our world. Lucky me. Lucky us!
Consider an end-of-the-year gift to CommonWealth Urban Farms
We aim to be a community-supported project, and are grateful for all volunteer labor and financial donations.
Please consider a single donation or becoming a continuing supporter through our Patreon program.
To make a one-time donation, click on the "Donate" button on the bottom of our site, or mail a check to CommonWealth Urban Farms, at 1013 NW 32nd St., Oklahoma City, OK 73118.