We have lots of seedlings available this year! We will update this page regularly with what we have currently available. 
To purchase seedlings, stop by the farm any Saturday between 9am-noon. You can find us at 3310 N. Olie in OKC.
Note: we will NOT have a seedling sale at CommonWealth on Saturday, May 11th – all our plants will be with us at the OKC Garden Fest that day.  OKC Garden Fest, May 11th at the Myriad Gardens, 9 am to 4 pm. We'll have a booth there with loads of cut flower, herb & vegetable seedlings and pollinator plants!
You can also find our seedlings at the Paseo Farmers Market at SixTwelve, 612 NW 29th, OKC. Saturdays from 9 am to noon. Starts April 27th. SNAP accepted. 
Reach out to us at info@commonwealthurbanfarms.com with any questions.  
Veggies – Currently Available
Sungold – little golden orbs bursting with flavor. My favorite tomato, taste-wise. Seems particularly susceptible to spider mites.
Juliet – the most heat tolerant tomato we've grown. Not as tasty as the other tomatoes we grow, but if you want fresh tomatoes in the dog days of August, this is your best bet. Disease resistant.
Verona – larger, more flavorful Juliet type.
Slicing Tomatoes
Early Girl – flavorful, reliable, early; we plant more Early Girl than any other variety.
Estiva – similar to Early Girl. We've grown it for several years on the recommendation of our friends at Three Springs Farm. Very good flavor, heat and drought tolerant, resists cracking.
Peppers
Giant Marconi 
Chiles
Shishitos – a mild chile pepper, very little heat. Try them grilled – they are absolutely addictive.
Biquinho pepper – aka "little beak" this yellow variety has a unique, slightly tart flavor with a tiny bit of heat. Often pickled.
Dedo-De-Moça – long peppers with fruity flavor and moderate heat
 Jalapeños
Eggplant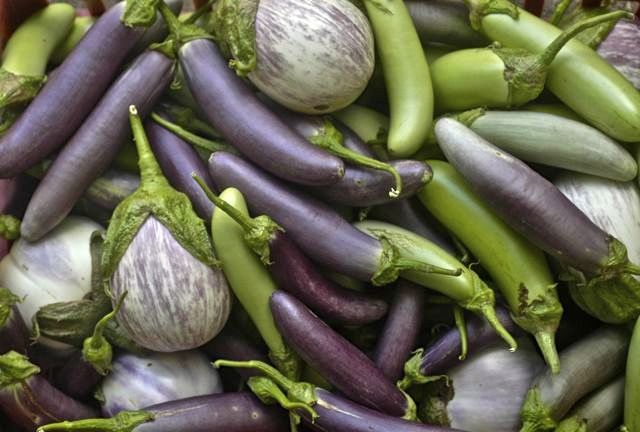 Pintung Long- productive, long purple Chinese eggplant, great flavor
Nadia
Jiló Gigante Jaíba & Tinguá Verde-Claro – two popular Brazilian varieties
Cucumbers
Cucumbers, Striped Armenian – long, curvy cucumbers with light and dark green stripes. Delicious and prolific, one of our most favorite cucumbers.
Cut Flowers – Currently Available
All these flower varieties are grown for the bouquet garden, with long stems and long-lasting blooms. Many are also excellent pollinator plants. Most of our cut flower seedlings will be available in late April – see list below.
We'll have a large selection for sale on Saturday, April 27th, before or after our Plant a Bouquet Garden class.
Available now:
Lisianthus – a superb cut flower, with rose-like blossoms in shades of purple, pink, white and yellow. Bred from prairie gentian, a flower native to prairies and fields from northern New Mexico to Colorado and Nebraska. For such a delicate looking flower, it sure can hold up to our Oklahoma summers! Space them close together on 6" centers for maximum production of tall stems.
Snapdragons – tall, gorgeous blooms in early summer
Rocket – reliable, main season snapdragon, wide range of colors, prolific blooms. 24-36" height.
Madame Butterfly – unique double-petal type snapdragon, with full, fluffy blooms in a variety of colors. 24-36" height.
Columbine 'McKana Giants Mix' – our first time to try this perennial as a cut flower. Our plants are healthy, one year-old plants, so they should bloom this spring. Columbine prefers part shade. Well-branched plants, large flowers, wide color range.
Herbs, Native Plants & Pollinator Plants
Catnip – bring your kitties a special treat! Catnip contains a volatile oil that provokes a sense of euphoria or overwhelming happiness in felines. That we should all be so lucky! Catnip is considered to be nonaddictive and completely harmless to cats.
Brown Eyed Susan (Rudbeckia triloba) – if I were forced to choose a favorite amongst all the rudbeckia, I would have to choose Rudbeckia triloba. More carefree in form than Rudbeckia hirta (ie Prairie Sun, Indian Summer), this bushy plant blooms in August or September in an explosion of small, bright yellow flowers. Beautiful bouquet filler. Native from New England to Minnesota south to Georgia & Oklahoma. Biennial or short-lived perennial, often self-seeds.
Blanket Flower (Gaillardia grandiflora 'Dazzler') – the state wildflower of Oklahoma, Blanket Flower gives a long season of blooms featuring bright orange-red petals with golden-yellow tips. Attractive to butterflies. Drought tolerant once established.
Hyacinth Bean – a vining plant that loves hot, sunny conditions. Prolific bloomer; let it cover a fence or trellis and you'll have a show-stopping display of magenta-purple flowers and pods. Flowers are edible and tasty.
Black Eyed Susan (Rudbeckia fulgida)
Columbine (Aquilegia canadensis) – shade loving perennial with red & yellow flowers.
Milkweed "Oscar" (Asclepias physocarpa) – this milkweed variety was very popular with monarch caterpillars last year! Also known as "Hairy Balls", the plants develop large, papery seed pods that earn its nickname. Sturdy, attractive plants in the landscape, and the seed pods are eye catching in arrangements. 32-72" height.
Mealy Blue Sage (Salvia farinacea) – hardy perennial, drought tolerant, violet-blue flowers bloom all summer and attract butterflies. Care-free once established, has reliably come back for us year after year.
Scarlet Sage (Salvia coccinea) – annual, native to Texas and found throughout southern US. Red tubular flowers attract butterflies and are a stand-out in the flower bed.
AVAILABLE LATER IN APRIL
Cut Flowers
Basil, "Aromatto" – ornamental basil with purple stems and purple-green foliage, provides abundant, fragrant foliage for bouquets
Basil, "Cardinal" – a uniquely beautiful Thai basil, with dark red seed heads that are striking in bouquets. Also edible.
Cosmos – a carefree, summer favorite in pinks and whites
Daucus, aka Wild Carrot or False Queen Anne's Lace – lacy flower heads on tall, thin, sturdy stems. Flowers shift color from white to dark purple as they mature. Long-lasting in bouquets.
Dianthus, aka Sweet William or Pinks – lovely, old fashioned flowers, lightly fragrant, pinks and whites
Gomphrena aka Globe Amaranth – well-branched plants with charming, clover-like blooms.
Hibiscus, Mahogany Splendor (Hibiscus acetosella) – grown for its exceptional, mahogany-red, deeply cut foliage, reminiscent of Japanese maples. Drought and heat tolerant, beautiful in the landscape, and the branches make quite a statement in large bouquets.
Marigolds, Giant Orange – 3 foot high plants give prolific yields of large, gorgeous flowers
Sunflowers, Autumn Beauty – bold, beautiful flowers in yellow, bronze and purple shades. 60-70" height.
Zinnias, Benary's Giant – premium zinnia, densely petaled, large blooms, wide color range. 40-50" height.
Native Plants & Pollinator Plants
Bee Balm (Monarda)
Mexican Sunflower (Tithonia rotundifolia)
Purple Coneflower (Echinacea purpurea 'Bravado')
Herbs & Edible Flowers
Basil, genovese – the classic Italian basil for making pesto, caprese salad
Basil, lemon
Basil, purple
Basil, holy
Dill
Parsley
Hibiscus, Thai Red Roselle (Hibiscus sabdariffa) – beautiful 3-6 ft. tall plants with red stems. The bright red calyxes are highly sought after for making tea (said to lower blood pressure), sauce, syrup or jam, or candied whole. The flowers and young leaves are edible and have a citrus tang – I tasted one leaf and immediately went back for more! Space plants 3-6 feet apart – the wider the spacing, the more calyxes will ripen.
Spilanthes – also known as toothache plant. Contains a natural analgesic which numbs the tongue and gums, relieving toothache pain. Full, mounding habit, with yellow flower heads shaped like gum drops.
Vegetables
Okra, Clemson Spineless – heirloom variety, reliable and productive
Plus tomatoes, peppers & eggplant (see above list)