Honor Mom with beautiful, locally grown flowers for Mother's Day!
Bouquets & Flower Buffet
Saturday, May 13
th
, 2017 from 9 am to noon
For Mother's Day, CommonWealth is pleased to offer locally & sustainably grown bouquets for that special Mom in your life!
Bouquets will be available for pick up on Saturday, May 13th at CommonWealth Urban Farms, 3310 N. Olie, OKC.
Or delight your senses at our first-ever Flower Buffet. From 9 am to noon on Saturday, May 13th, we'll have a gorgeous spread of flowers and foliage. Pick out as many stems as you like to compose your own unique bouquet. Priced per stem. We'll have wrapping paper, ribbon, recycled vases and friendly assistance on hand for free!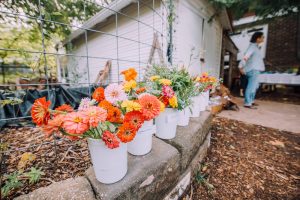 This year, our Mother's Day bouquets are made extra-special by fair trade vases provided by PAMBE Ghana. Each bouquet comes arranged in a large turquoise mug crafted by hand in the Bat Trang village of Vietnam, famous for its centuries-old tradition of creating fine ceramics.After the bouquet is gone, the recipient is left with a lovely mug to enjoy for years to come. The 18 ounce mugs are oven, microwave, and dishwasher safe.
We're buying the mugs through PAMBE Ghana, founded by our dear friend, Alice Iddi-Gubbels. During the years that Alice lived in OKC, she inspired many of us with her vision for high quality education for children in Ghana. In 2008, with many hands helping, Alice opened an innovative school for bilingual child-centered education in her home village. Since then, it has grown to include over 200 students, with active parental and community involvement. No ordinary school is this! Solar panels power their computer lab, and rainwater tanks collect water. The local community has helped build and maintain the school structures. Dedicated volunteers in OKC raise money for PAMBE Ghana by selling fair trade items, including these mugs.
 

ORDERS ARE NOW CLOSED – Please join us for the Flower Buffett on May 13!
We love, love, love growing flowers. And we love seeing the light in people's eyes when they encounter our bouquets, or the rows of colorful blooms that we plant and harvest each week. Join us on Saturday, May 13th and immerse yourself in the happiness that flowers bring to the soul.