Do you want to be an urban farmer? Are you a home gardener ready to step up to the next level?
Now in our 6th year, CommonWealth offers the opportunity to learn in a hands-on format, in the midst of a working urban farm. In addition to our primary focus on vegetables, we also grow cut flowers. Our farm includes a recently completed hoop house, a composting operation, and a rainwater harvesting system. We sell our vegetables and flowers to a 25 person CSA (subscription vegetable service), local restaurants and local florists. We also have a strong educational component, including Saturday "CommonWork" community volunteer times, Farm Tours and Garden School classes.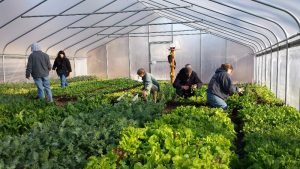 Our staff has decades of experience in home gardening, community gardening and market gardening. We offer the opportunity for you to work alongside us, and learn about diverse areas of urban farming: planning, record-keeping, data analysis, planting, weed/pest/disease prevention and control, soil and plant health, composting, harvesting, post-harvest processing, marketing, community relations, advocacy, bio-remediation, rainwater harvesting, and long-term sustainability of farm and farmer.
The Nitty Gritty
Apprentices make a 3 month commitment of 8 hours per week of volunteer time. Each apprentice can choose what hours work best for them, within these time slots: Mondays, Tuesdays, Wednesdays, Fridays, & Saturdays from 8 am to noon.
Our learning method is hands-on. For each new skill and task, we'll show you how to do it, supervise you while you learn, then give you a chance to demonstrate your skill and eventually teach it others. We want apprentices to learn new skills, and learn them well!
Urban Farming Certificate upon Completion of Apprenticeship
Each person who successfully completes the apprenticeship program, including the checklist of specific skills, will receive a certificate in Urban Farming from CommonWealth.
Requirements
Positive attitude, flexibility, self-motivation, commitment to sustainability.
Ability to work well on a team, as well as to work alone and unsupervised at times.
Ability to work in all kinds of weather: hot, cold, windy or wet.
Enjoyment of strenuous physical labor, willingness to learn how to work quickly and efficiently.
Desire to learn and to serve the community with what you learn.
Who Can Benefit?
Anyone who is interested in becoming an urban farmer, or a better home gardener.
To Apply
To apply for our apprenticeship program, we suggest that you volunteer with us first, to get a feel for our farm, and meet our team. We have volunteer work times every Saturday morning from 9 am to noon. Email us to let us know you are interested! All ages, genders, and ethnicities are encouraged to apply.
APPLICATIONS ARE CURRENTLY CLOSED. WE WILL UPDATE THIS PAGE WHEN APPLICATIONS OPEN AGAIN.